NYU Journalism's NewsDoc Voices covers Election Day from a neighborhood point of view. Discover the journeys of some of the 8 million New Yorkers during this election season:
The United States has a long-standing history of low voter turnout. This year's election was no exception, with only 56.9% of the country's eligible voters going to the polls. However, Tuesday night's results might lead to a shift in these statistics for the next presidential election.
This unusual election season brought with it heavy emotional baggage including stress, anger, and sadness that voters are continuing to deal with.
The 45th Assembly district that includes Brighton Beach was one of the few areas in Brooklyn where Donald Trump won thanks to Russian-speaking voters. But Pakistani and Hispanic residents are afraid that his presidency will make them vulnerable.
A resistance movement grows in the wake of the election of Donald J. Trump.
Voters still hoping for the first female president set their dreams on Michelle Obama.
The result of the presidential election have sent New Yorkers reeling, yet the shops selling election merchandise continues to reel customers in.
There was a lot of concern about millennials voting this Tuesday, but a group of Middle School students can't wait for their turn. Watch their story.
During the Democratic primary, North Brooklynites were the biggest supporters of Bernie Sanders in New York City. Kira Monin was one of those. See how Bernie supporters ended up voting on election day.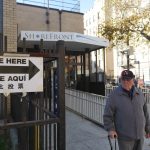 A large population of immigrants from the former Soviet Union in Brighton Beach overwhelmingly supported Donald Trump in this presidential election, while other ethnic groups in the area, in particular Pakistanis, voted for Hillary Clinton.
What do young voters think about the election? Listen to find out. NYU Journalism presents an in-depth discussion with 4 politically savvy college students about their experiences this past election season.

Harlem is bustling not only with music but also with different opinions. Join me in this journey to the streets of Harlem to listen to the residents.
Studies show that many of us make up our minds about someone within the first 7 seconds of meeting them. We were wondering if that extends to politics. Can you spot the (red) elephant or (blue) donkey in the room?
The female vote was important in Tuesday's election. Women across Corona came out strong for Clinton and share their concerns.
Language has been crucial in this election, but rappers now have a responsibility to utilize their work for further progress.