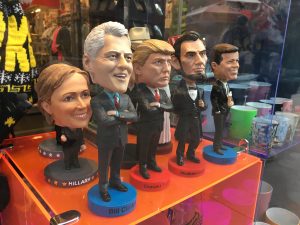 The 2016 presidential cycle has been the most expensive campaign to date, not least in terms of campaign merchandise. The Advertising Specialty Institute estimates the Democrat and Republican candidates to have spent $2.4 million and $11.5 million respectively on merchandise alone. In 2012, Obama spent $6.7 million while Romney spent $1.6 million on campaign merchandise.
This campaign has also given birth to a billion dollar unofficial campaign merchandise industry. Stores, websites and roving individuals following the campaign trail up and down the country have been raking it in.
In New York independent, specialist and chain stores have also tapped into the market. Little has changed since Tuesday. Election fever is still drawing in crowds to buy unofficial campaign novelty items of all shapes and sizes.
"We took the windows down but we're still selling election products," said Eiga Ackerman the manager of Fishs Eddy, a 5000 square meter home goods store in the Flatiron district. "The mugs have been the best sellers," Ackerman explains. Hillary mugs sold "easily in the thousands" compared to "boxes" of Trump mugs.
Since the result, there has been a steady increase in Trump mugs, bought by either "moody people", "people trying to accept the result" or by the fun crowd who buy it as a "gag".
But Fishs Eddy's Trump merchandise is conspicuously ironic, the Trump mug has a cartoon of Trump under which is written, "Proudly made in Mexico by Mexicans" or alternatively "HUUUGE ASSHOLE".
"The only things reduced were the Hillary trail mix and the 'Vote Tote'. In retail everything goes with popularity and fad and for now it's selling so we'll continue to sell and order more stock," Ackerman added.
Phantom of Broadway, is a chain souvenir store with 12 locations across the city. Benjamin Agyare a shop assistant at the Times Square location has seen no change in the pace of sales of their election products since Election Day.
"We sold out of Hilary T-shirts before the result and for now we only have Trumps left. They're selling more now that he's President. A lady from Italy came in and bought two this morning," he said.
Phantom of Broadway sells everything from fridge magnets to bobble heads, the latter he claims are the store's election best sellers. "We have Lincoln, Elvis and John Wayne but only Trump and Hilary have been selling," he said.
"People want souvenirs of this election, so we've got more orders coming." he added.
A small interior design shop owned by interior designer Susie Kurkowski, "Items of Interest" tucked away on Park Slope's Fifth Avenue has also been selling election merchandise, but only pro-Hilary products. Unlike most unofficial campaign outlets, Kurkowski had been donating part of the proceeds to the Clinton Campaign.
"Susie felt really strongly about this election and so decided to design some items of clothing herself, " said her assistant Christina Benson.
Kurkowski designed T-shirts and tank tops with tags like "Vote for the Girl" and "Hill Yeah" which originally sold for $28 a piece. But as of the weekend before the election they were put on sale – two for $30, Three for $40.
What has sold out are the children's items – the Hillary action doll, children's clothes and only a handful of Hillary Rodham Clinton: Some girls are born to lead, a illustrated biography of Hilary Clinton aimed at 4-8 year olds remain.
"People are still placing orders for the children's t-shirts and onesies. This will be our last order," Benson adds.
"When I grow up I want to be a Ballerina President" reads one of the children's T-shirts.
Instead of joking about or remembering this election, the locals who shop at "Items of Interest" seem to be stocking up to keep the Democrat dream of a female president message alive.