Over the late morning, a man dressed up in pure white Tibetan festive clothes appeared in a Nepalese Monastery,  in Jackson Heights, Queens. Sonam Gyatso, born in 1959 in Tibet, was with his wife, preparing for the upcoming lecture by a Tibetan living Buddha in the afternoon.
"We have never been in Tibet," said Gyatso, now the President of Tibetan Community of New York & New Jersey – The largest Tibetan community in North America. In 1960, Gyatso's parents climbed over the Himalayas and took him on exile in Nepal after Communist troops annexed Tibet.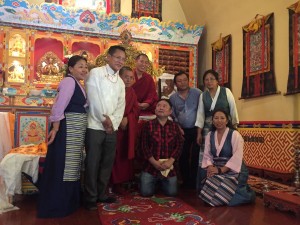 Unlike immigrants from other countries, the first generation of Tibetan immigrants came to the US through a lottery project in 1989 nicknamed "The Lucky One Thousand". The Tibetan United States Resettlement Project (RUSRP) was established then to grant 1,000 immigrant visas for natives of Tibet in India or Nepal and support their resettlement. Tibetans started to flow in around 1990-1995, and later brought their family members to the US. From there the Tibetan community started to grow.
Among the 8,000 Tibetans now in New York and New Jersey, nearly half are living around Jackson Heights. "After having exiled for so many years, we are quite used to Indian food. Jackson Heights is a junction of Indian and Bangladesh community. That's why lots of Tibetans chose to settle here," explained Gyatso.
Despite the tight knit community that Tibetans were able to build in Jackson Heights, for many there is still something missing.
"Now I'm really worried about our kids losing connection to Tibet," said Ngawang Dolma, 51, who arrived in US in 1996.
Language has since been one of the biggest obstacles for those exiles in maintaining identity. There are only two Tibetan language school in the New York City. One of them is organized by Gyatso in Tibetan Community in New York and New Jersey. The school is open four hours every Sunday and has only 17-20 teachers and 250 students. Many of the young Tibetan children can only speak limited Tibetan and have basic skills in writing. Others don't know how to read and write at all.
"I can only speak a little Tibetan," smiled the six year old girl, Tenzin Yeshi, dressed in a western style black and white dress and a pair of shiny white leather shoes. The only obvious difference between her and girls of the same age in US, is probably the Dalai Lama portrait pendant in front of her chest.
"Although I have never been in Tibet, it's my last dream to go there. It's my first hometown," said Dolma. She has never applied for a visa to go back to Tibet, because her friends who did that simply got rejected. So far there is no official statistics about how many visas are given out every year.
According to a demographic survey in 2009 by Planning Commission of Central Tibetan Administration, there are around 129,000 Tibetan in exile, most of them in India.  But this community worldwide has been for a long time overlooked in the world press but remains politically active.
Tenzin Dechen, a Tibetan in exile, was born in 1990 in India. He is currently working as the Personal Assistant to the Representative at the Office of Tibet in Washington D.C.. He can speak Tibetan fluently but has only intermediate skill in reading and basic in writing.
Dechen started to feel the importance of identity only after he came to the US. "Before I was in India, there was not so much difference between us and Indians. But after I moved to US and sit in the class, I knew I'm different. That's when I started to think who I am, where I come from, and the importance to preserve Tibetan culture."
However, the younger generation, such as Dechen, 25,  doesn't dream as feverishly as the older generation about returning to Tibet. "I want to go to a law school and find a job here," said Dechen. Different from the first generation of Tibetan immigrant who work mainly in baby-sitting or construction, the second generation is receiving higher education and is moving up. Even for younger Tibetans, the pull of a homeland they have never been to is still there. "But when I get old, I do want to return to Tibet," he added.
Dechen is an active blogger on Tibetan issues and well informed about the history and current issues in China and Tibet. He admits he is an exception among Tibetan young people who are often more radical than he when it comes to Tibetan issues. "History can't solve all the issues and we need to move forward," he said. "I don't think China is bad. We can't get emotional on this. Culturally the whole matter is very complicated."
China's President Xi Jinping recently opened a tour for foreign journalists to go into Tibet. It's the second tour China has allowed, the first was in 2008. "It's a good sign," said Gyatso. "And we are putting our hope into Xi Jinxing to bring solutions, because his father has very good relationship with Tibet and Panchan Lama." Dalai Lama, in an interview with the BBC in 2012, gave high praise to Xi's father calling him "comparatively open minded".
"Even His Holiness Dalai Lama is kind of believing maybe Xi Jinxing will definitely do some changes about the Tibetan issues," said Gyatso hopefully. "We are not seeking independence, but full autonomy. Actually we have proposed that since 1976."