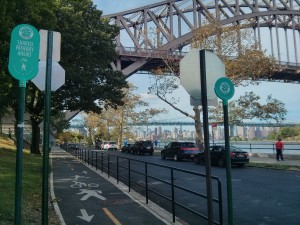 Park goers like to park on Shore Boulevard. Photo take by Ying Lu.
Astoria – A State Assembly member's call for a car-free zone along Astoria Park continues to spark debate amid residents.
New York State Assembly member Aravellas Simotas sent a letter to the New York City Department of Transportation in August requesting that Shore Blvd between Astoria Park South and Ditmars Blvd be closed to vehicular traffic. Touting that the stretch of road was "notoriously dangerous for pedestrians, cyclists, and park-goers", the letter argues that "this half-mile portion of roadway provides no meaningful transportation purpose and contributes to a number of problems for our community."
However, not everyone in Astoria agrees with the proposal.
"It is disrespectful for the elderly," said Joe Marinelli, a long time Astoria resident. Sitting on his patio chair, Marinelli was enjoying the waterfront on a Saturday morning. "People with kids or wheelchairs need to drive down to the park and enjoy the waterfront, the banning would only push the parking lot further."
Marinelli added: "What's really dangerous is the motorcycle. This is what they should ban, instead of cars."
Tony Pedro, who has lived in the neighborhood for more than 20 years, said he had "no clue" about the call for car-free on Shore Blvd. Pedro recalled that in the past 20 years, there were about three accidents that actually happened on Shore Blvd. "Three at maximum," Pedro added.
Pedro, who works in law enforcement, suggested that the real concern for public safety in the park was people smoking weed during night time. "I used to finish work around midnight, and I would walk through the park to go back home," Pedro said. "People smoking weed in the park at night is the real matter, not vehicles passing by."
Simotas' letter has prompted an online petition on Change.org against closing Shore Blvd. So far, the petition has already gained more than 1000 signatures.
The comments section is filled with residential complaints against the proposal. "Closing this street will upset many residents and make us feel as if we have no say in the matter," commented by username Sally Cancel.
Assembly member Simotas office could not be reached for comment to determine whether she had discussed the issues with DOT or the community council members. Many in the neighborhood believed Simotas' request was prompted by the nearby fatal hit-and-run happened in June.
The accident, which happened on June 27, involved a 21-year-old woman who was killed by a car while she was crossing Ditmars Blvd and 19th Street, where the Astoria Park northeast entrance is located.
For some, the accident was enough to support Simotas' proposal. Gloria Sacho, who did not know about the Assembly member's letter before, sighted the summer's accident when she said it would be a "nice idea" if the waterfront is just for pedestrains.
In a sign that this issue won't be resolved any time soon, Tony Pedro, was not convinced. He argued the authority should not blame the waterfront road for what happened outside of the park. "Don't let the few take way everybody's right to the waterfront," Pedro said.
In a statement, a DOT spokesperson confirmed that the agency received the Assembly Member's letter and said it looks forward to working with local elected officials and the community on ideas about enhancing safety, particularly at key destinations well used by residents and visitors alike such as Astoria Park.
On a recent Saturday morning, cars continue to drive by Shore Blvd. So do runners and their dogs. There are cars parked on the road, but there is no traffic. Everything looks peaceful.