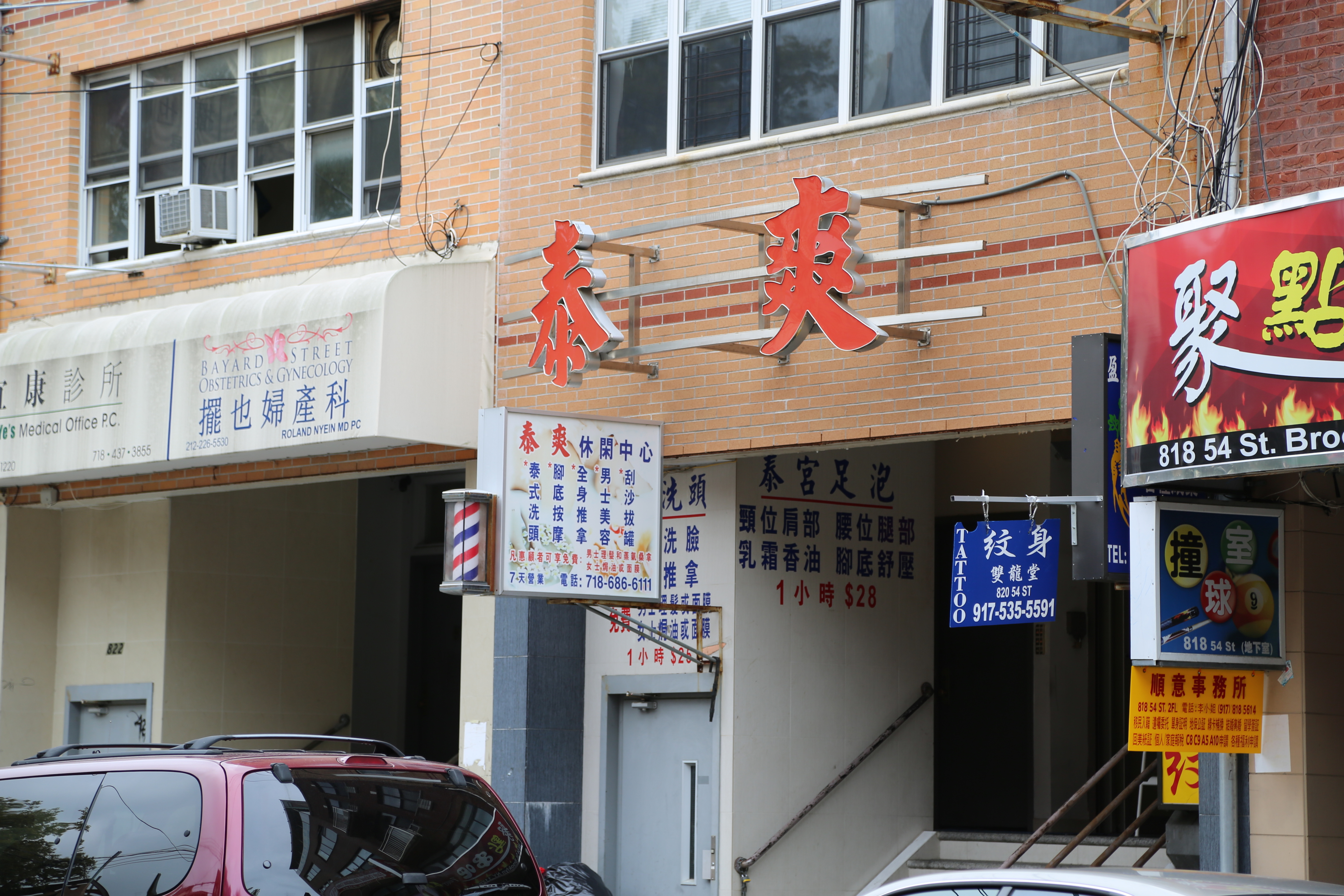 Sitting on a bench in front of a massage parlor, Max Chen took out a Marlboro from his jeans pocket and took a deep drag, blowing the smoke from his nose with a contended smile on his face.
Chen said he has worked in this massage parlor, Tai Shuang Spring Resort, for over one year. His job was to do foot massages for customers, and a blister on his index finger demonstrated how hard he works to give others relaxation.
Chen is one of about 45,000 to 50,000 Chinese-born immigrants living in the Sunset Park neighborhood, according to data provided by Community Board 7. The total population of this neighborhood is 151,902, of which 30 percent are Chinese.
The Chinese immigrants, mostly Cantonese, influx starts in the 1980s, but Fujianese outnumbers the Cantonese in the following years, according to Jeremy Laufer, district manger to Community Board 7 over a phone interview.
Chen left his hometown, a small city in southeast China's Fujian province, in 2005 and was smuggled illegally into the United States with the help of a Chinese snakehead.
However, the journey from China to the U.S. was not as easy and short as Chen described. In fact, he took a bus to Shanghai, where he boarded a plane to Moscow. After a 2-day-stay, he took another flight to Havana, where he stayed in a small house with other fellow immigrants for over 20 days before they went to Guatemala. Afterwards, he hid in the bus luggage compartment, hot and crowded, for over 10 hours before the bus arrived in Mexico City. Then he was transferred to another bus luggage compartment, taking him to the Mexico-U.S. border. He got out of the bus and escaped into the nearby mountains. Soon, he was stopped and questioned by border police. Fortunately, he was released after about a day and told to go to court in New York.
This journey cost Chen $65,000. He worked about four years to pay off the debt.
Chen worked at various Chinese restaurants in many states, including New Jersey, Massachusetts, Connecticut and Alaska. Life was hard during those years as he worked 10 or 11 hours a day sometimes 7 days a week.
"In the first three or four years, I could not adapt to the U.S. society. I just wanted to earn some money and go back to China," Chen said.
But after working in the U.S. for about four years, Chen changed his mind and wanted to settle down in this country primarily for the access to health care, education, and social freedom.
The most important one was that he could give his son a better future. His son was born in the U.S. in 2011 after he paid off his debts and saved some money to raise the baby. He sent his son back to his parents when the baby was only three-month-old, because he and his wife had to work and could not take care of the baby.
"Sending newborns back to China is a common practice in this Chinese immigrant neighborhood," he explained.
Now, Chen is considering bringing his son and his parents to New York City because it's time for the kid to attend school. And as he is the only son of his family, he also has to take care of his elderly parents.
The rapid immigration has had mixed effects on the neighborhood. The influxes of Chinese immigrants helped revitalize 8th Avenue, which is now lined up with grocery stores, seafood markets and restaurants, said Laufer. But the number of available apartments cannot keep pace with the growing immigrants population, resulting in medium monthly rent increase in the neighborhood from $1,133 in 2006 to $1257 in 2012, according to Laufer.
Despite the hardships, Chen is just one of many who are willing to endure. Sitting in the massage shop Chen pointed to another young man working there and said, "This boy smuggled to U.S. six months ago."
"The numbers of Chinese immigrants in this neighborhood are still going up over the years," said Laufer.