Alberto Zamora Calderon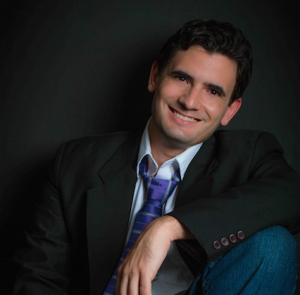 Alberto Zamora Calderon is a Costa Rican multimedia producer; editor and Internet broadcasting operator for www.teletica.com at "Teletica" Channel 7 News. His roles include producing and editing broadcast pieces and generating promotional material for the news, sports, lifestyle and entertainment sections. Before joining the Channel 7 staff, he worked as an assistant director in advertising, music videos and a feature length film in Costa Rica. He has also written, directed and produced short films and documentaries. He holds a bachelors degree in Film and Television and is a member of the Costa Rican College of Professionals in Communication.
Alberto is an avid reader of Noam Chomsky's writings on the role of the media in politics and democratic societies. It is the subject that most elicits his creative drive and critical thinking for the documentary and news projects he wishes to produce. His favorite sports are tennis and soccer. Alberto is a fan of Tom Waits' music and Warren Beatty's films. He likes reading Jorge Luis Borges in English and he pays close attention to the political commentators on Fox News.
Siyi Chen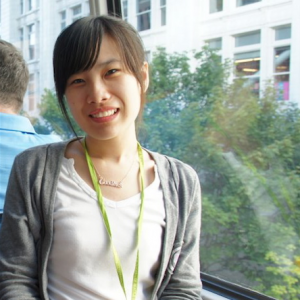 Siyi Chen (Claire) holds a B.A. in World History and Arabic from Peking University and a minor in Chinese literature. Her journey into journalism started as a producer at the campus TV station, running a weekly news program about China's higher education reform. Later on, she landed a 6-month internship at BON TV (Beijing) where she worked on a feature program called Amazing China, which showcases modern Chinese culture through micro-documentaries of young pioneering artists.
Siyi sees herself as a member of the "transitional generation" in China, influenced both by globalization/foreign cultures and the former prevailing communist/Confucian traditions. For this reason, she has always been obsessed with stories of her peers – young Chinese artists, entrepreneurs, and political activists etc. She's thrilled to see the interplay and conflict of different values and cultures on their minds, to find out how such influence would lead them to shape the future of China. She is also interested in reporting on women's rights, social justice and international affairs.
Siyi is a fervid fan of photography and traveling. She's been to the UK, US, Thailand, Indonesia, Cambodia, South Korea, Taiwan etc., and documented the people and cultures along the way with her camera. She also loves literature, especially poetry and drama. She's written several play scripts that won school-wide competitions. Siyi looks forward to being a part of the NYU family and studying/living in the amazing city of New York.
Kelsey C. Doyle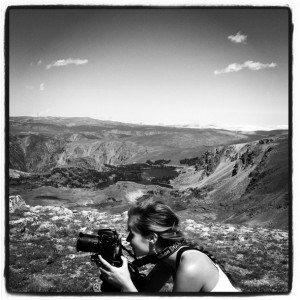 Kelsey C. Doyle is an independent documentary filmmaker and photographer from Santa Cruz, California. Doyle's inspiration began when she started making experimental films in her backyard to with the family video camera. From that point on, Doyle's interest and passion for film grew. Taking a Video Production course in high school pushed her to pursue a college degree in film. Doyle is strongly rooted in the community of Santa Cruz. Her first documentary, A Green Beginning, was introduced at the Santa Cruz Film Festival in 2006. In 2013, Doyle became a board member for the Santa Cruz Film Festival and was recently promoted to Secretary of the Board in 2014. She aims to share environmental/political topics and issues with the world through documentary journalism. "Film is the ultimate medium to capture reality." -K. C. Doyle
In 2012 she launched her production company, Hawks Peak Productions, naming her sister, Sandra Doyle as co-producer and director. Their first feature together, The Howl Between Mountains, a documentary about the reintroduction of the grey wolf into Yellowstone National Park will come out in 2014. She is currently in in development on a project for the Ulithi Marine Management and Conservation and in the final post-production stages of her a short documentary on the political and societal changes in Myanmar, Burma called The People Form the Land of Golden Pagodas. Doyle studied in film in London and Buenos Aires, completing her Film and Digital Media with a Concentration in Production degree from the University of California, Santa Cruz. She aspires to one day become a professional documentary journalist and professor.
Rahmah Mohamad Pauzi
I graduated from the University of Massachusetts Amherst in 2013 where I studied Journalism, Film Studies, and Anthropology. My undergraduate journalistic experience was centered around multimedia reporting which includes blogging, broadcasting, video journalism, and photojournalism. Among the topics I covered in my reporting are student debt, international students struggle, and the issue of race and segregation in American K-12 education.
While my academic focus was primarily journalism, my practice mostly concerns documentary filmmaking and visual anthropology. My documentary From Darfur to Amherst, received Honorable Mention at 8th UMass Amherst Film Festival (2013) for documentary category, while "'Not my heaven': 5 Years in America" won Best of UMass Amherst at Five College Film Festival 2014.
I was born and raised in Malaysia, so being away from home during my undergraduate years in the States made me become interested in ethno-cultural matters and documentary form and its critical depth – beyond its journalistic value. Many of my works revolve around themes of globalization, socio-economic struggles, displacement, immigration, and the losses that these imply.
While in UMass, I was in a Community Journalism class, a community critical literacy effort, where I taught urban high schoolers journalism. I also interned at Democracy Now! in New York City in 2013 in education and video production team. Currently, I am working at Business FM (BFM) in Kuala Lumpur, where I produce radio documentaries.
Anna Perczak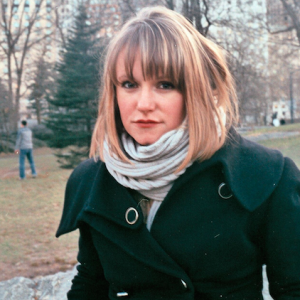 Anna Perczak was born and raised outside Boulder, CO. She graduated from Northwestern University in Chicago with a B.A. in Theater and Sociology, before moving to New York in 2009 to work in theater, film and television. For the past several years, she has worked extensively with UglyRhino Productions in Brooklyn, a company founded by fellow artists who wanted to produce their own original work and curate entire evenings combining theater, short film, live music, comedy and visual art. Anna also works as a legal contractor for law firms based in Denver; as the daughter of two attorneys she found she could draft deposition summaries and review large reams of complex legal documents straight out of the womb. She has an additional background in education, working as a middle school tutor in New York for the past several years. As an undergraduate at Northwestern, Anna worked in Chicagoland schools employing creative drama techniques to supplement traditional learning and expand resources for students to nourish their mental and emotional health. Anna hopes to learn to translate her varied background and love for quality storytelling into compelling visual journalism. She looks forward to using her time at NYU to explore a new medium and tell compelling human interest pieces that cover stories that might otherwise not be told. She has an extracurricular knowledge base covering the NFL, arabian horses, skiing, the relative merits of almost any show on television; as well as reasons why pie is not an acceptable choice for dessert. Ever.
Goldie Poll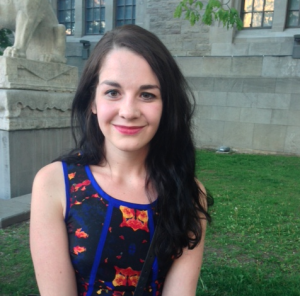 Goldie Poll was born on October 26th, 1992, in Vancouver, British Columbia. She moved to Toronto in 2010, at age 17. She graduated from the University of Toronto (University College, Downtown) with an Honor's Bachelors of Arts in 2014. She double majored in Political Science and Equity Studies, and minored in American Studies. While at U of T, she did exchange terms in Central Europe and the Middle East. She worked with the campus chapter of Journalists for Human Rights, a Toronto-based NGO which aims to make everyone in the world aware of their rights, all four years. She also worked at U of T's First Nations House (the campus resource and research center for Aboriginal youth) and at the Faculty of Information. She is very excited to start at NYU. In her spare time, Goldie enjoys Tumblr, hoarding books, watching everything on television, and eating.
Wen Xin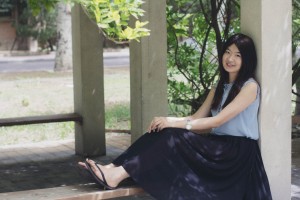 Wen Xin recently got her BA degree from University of International Business and Economics, majoring in Business English and minoring in Marketing. While immersed in a business environment at her college, Wen has always been interested in journalism. Wen has worked for her university newspaper for two years and got 3 articles published in People's Daily overseas edition. She has interviewed many different people from various fields, which made her decide to learn deeper in this field at the beginning. In her junior she has been an exchange student in Loyola University Chicago for half a year, where Wen set the goal to go back to the States for her master degree.
Wen has once interned at Beijing Television Station, China Daily and New York Times. Different media work experience gave her a large view for the whole journalism industry. She is eager to find a way to disclose the truth behind life in modern China; specifically, how different classes of people live within the country.
Wen's interest in graduate studies, specifically, is to build on the personal and professional stimulation she enjoyed in Chicago, and which she did not find while working at even a very well known news organization here at home. Excited to join the NYU community in NYC, Wen would like to use all of her experiences in order to develop her skills as a professional journalist in the future. She believes continued study at NYU is crucial in order to engage herself in social filmmaking to record the diverse Chinese society's transformations took place in a time of changes.
Ruohan Xu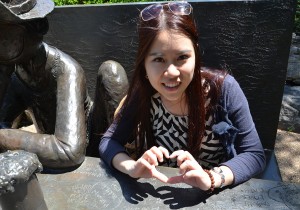 Ruohan Xu grew up in Hangzhou, China, a beautiful city called "the Paradise on Earth." She earned a bachelor degree in broadcast journalism from Missouri School of Journalism, where she developed her passion for journalism. She enjoys travel, making friends, and exploring the world.
During her years in Columbia, Mo., Ruohan has learned from The Journalist's Creed to tell stories on colorful and multicultural people. She loves to deal with visuals, sounds, words and people. She is dedicated to building engaging, interactive and influential stories, and is passionate about telling viewers stories and sharing her experience with them. She reported at the Missouri Capitol, worked for KOMU 8 News, mid-Missouri's NBC affiliate, covered national events in Washington D.C. for China's Xinhua News Agency, and produced news and shows for Zhejiang TV in China. She tasted different positions in journalism, and learned from the real world.
Ruohan fell in love with long-form storytelling during Columbia's annual True/False Film (documentary) Festival. Last year, she saw six documentary films during the festival weekend, including the Oscar-winning documentary film Twenty Feet from Stardom. Although Ruohan has little experience in producing documentary, she looks forward to learning how to make films like Twenty Feet from Stardom, which finds virtues behind the spotlight, tells real-life stories, and changes people's lives."
Runze Yu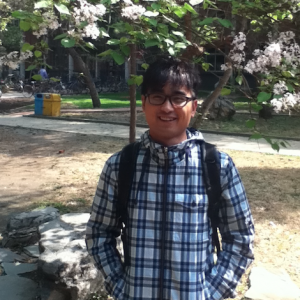 Runze Yu (Matt), was born and raised in central China's Hubei Province. In 2012, he received his bachelor degree from Beijing Language and Culture University and worked at Sina Corp. as an English news editor. It was at Sina that he honed his writing and editing skills. Later, Runze discovered that editor was not his dream career, but journalist was. An editor could not get the first-hand information from people involved in news events. To realize this goal, he decided to pursue his graduate studies at NYU. Taking his passion for documentaries in consideration, he believed News & Doc was his best choice. At NYU, Runze hopes to lay a solid foundation for news and learn how to make compelling documentaries. He is passionate about social justice, which will also be his focus in his future career. Runze is looking forward to starting his challenging life in NYU and meeting all the amazing people at News & Doc.
Kristopher Brant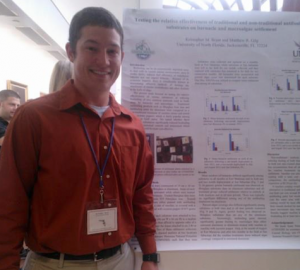 Kristopher Brant was raised just north of Orlando, FL. He received his undergraduate degree from the University of North Florida in Biology with a concentration in Coastal Biology. While completing his degree, he performed research on benthic species leading to a publication in Marine Biology Journal titled, "Testing the relative effectiveness of traditional and non-traditional antifouling substrates on barnacle and macroalgae settlement." He presented this research at several conferences including the 2013 Benthic Ecology Meeting. After graduating, he spent the last year teaching science at Tavares High School in Florida. With his interests in photography and film from his time in T.V. production in high school and his love for educating he decided News & Doc at NYU would be the best choice for his future. In his spare time he enjoys the beach, fishing, anything active, and all sports. He is excited about the challenges and opportunities that are ahead and to meet everyone involved at NYU and in the program.