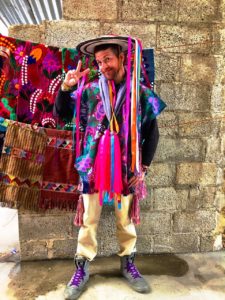 Ryan James Heinz in Chiapas, Mexico. Source: Ryan James Heinz
Ryan James Heinz prefers freedom to stability and a big paycheck at the end of the month. Growing up with a yearning for travel, Heinz decided to leave his life of comfort in the United States to go abroad. For the past 11 years, he has been living his life traveling from country to country, and working remotely on a wide variety of jobs such as, English teacher, copywriting and digital marketing. Since then, he hasn't looked back.
"I ended up selling everything," he said referring to everything he owned. "I have a lot more freedom."
Heinz, 33, said goodbye to his two-bedroom house with an outdoor pool, his car, and his well-paid job at a promising start up company, and decided to go traveling through Europe for just one year. Or so the original plan was. He ended up living there for four years. Heinz has visited a total of 80 countries, and has lived in about 13 countries. "I travel and I live somewhere for six or eight months because I love to embrace the culture in all the ways that I can," he said. Heinz is currently living in Medellín, Colombia, and is working for a hostel doing digital marketing.
A growing number of people, especially millennials, are leaving their jobs and life behind in their home country, to travel and work on the go, wherever they end up. They are embracing the digital nomad lifestyle, where all they need is themselves, a computer and good Wi-Fi connection. They have become fed up being enclosed in an office from 9 to 5, and asking their boss if they can take a week vacation. Now, it seems like their life is a vacation, and work is something they do on the side.
According to a State of Independence Research Brief conducted by MBO Partners, 4.8 million independent workers are describing themselves as digital nomads. In Gallup's State of the American Workplace report, where it documents the rising on the number of employees working remotely, shows that 39% of employees were working remotely at least some of the time, and it rose to 43% in 2016.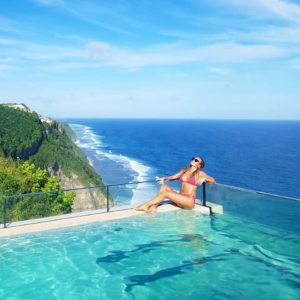 Sarah Solomon in Bali. Source: Sarah Solomon
Sarah Solomon, 26, was working at a Public Relations company in New York City when she was introduced to the concept of a digital nomad. "I said to myself 'I sit behind a computer all day, so I already have an online job, I could totally do this,'" Solomon said. After her realization, she started to gather clients and doing freelance PR work. Once she had a comfortable number of clients, Sarah left her job, gave up her lease at her apartment, and went off to Central America.
"I was working hard and I just wasn't feeling super fulfilled," Solomon said.
Before starting her journey, Solomon's life was stuck in a routine: alarm goes off at 7:45 a.m., hit snooze, go to work, buy a salad for lunch, go to the gym after work, go home, sleep, repeat. Now, living in Maui, Hawaii, she still has a routine but it's one she created for herself. She now wakes up at 5 a.m. because she works with media that is based in New York City, works with her clients from her computer finishing at noon or 1 p.m., and is free to do whatever she like the rest of the day. "I barely ever hit snooze, I just get out of bed," Solomon said. "I have so much to do and I'm excited."
In the year or so since Solomon took off into the world, she's been to 22 countries in total, including Nicaragua, Costa Rica, Bali, Guatemala and Saint Martin. "It's definitely a better way of life," she said.
Digital nomads usually spend a few months living in a country, and then they pick up and start all over again in another country of their choice. They sustain themselves by working remotely wherever they want.
According to a survey conducted by Deloitte in 2015, where data was collected from millennials worldwide born after 1982, 75% of millennials believe that working remotely would have a positive impact on productivity.
The popularity of this kind of thinking in recent years has given way to the birth of companies that make it easier for people to travel and work, such as Remote Year. Founded in 2015, Remote Year offers four and 12-month programs to live and work remotely in a different country. They form groups of 30 to 50 people and they travel together while doing their own work independently. In addition, they not only take freelancers into their program, but also employees of companies. To facilitate this to happen, the Remote Year team helps employees talk to managers and human resources.
"It's about the belief that we can create a more peaceful and productive world by exposing people and creating this really genuine human connections between people all over the world," said Erica Lurie, marketing coordinator for Remote Year.
The digital nomad lifestyle could also be a benefit for the overall economy. Estonia is poised to be the first country to provide a digital nomad visa. According to a report from McKinsey Global Institute in December 2016, migrants have a large economic impact causing labor force to grow and raise in global GDP. Estonia, aware of the benefits of digital nomads could bring to the country, plans to provide a digital nomad visa starting in 2019.
Currently, for digital nomads to go live and work in Estonia for a couple of months, they would have to enter the country on a tourist visa, stay up to three months and work under the radar. "We want them to have the option to not work under the radar and do it for a longer time and do it legally," said Luis Ortega, a partner relations specialist for Work in Estonia.
Work in Estonia is an organization that attracts foreigners to work in the country and they worked closely with the Ministry of Interior so that this visa could be an option. Although nomads will have to wait until Estonia's next year elections for the visa to come into effect, Ortega is confident that the government will pass the bill without resistance. Since Estonia has a solid start up and business environment that allows companies to grow fast, Ortega explained that the country will benefit from having internationals work in the country. "More international people that are coming from all over the world, they have difference experiences, they have different context, so this will enhance this environment for growing starts up, for growing business and for growing the digital society that we have here in Estonia," he said.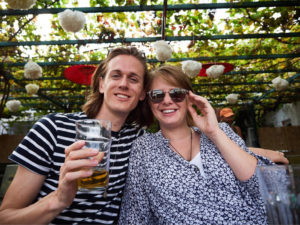 Josh and Ashley Brown in Visegrad, Hungary
Married for almost 12 years, Josh and Ashley Brown have been also experiencing the nomadic life, but with a twist. Instead of staying in each country for a few months, the Browns move every two weeks. The 32-year-olds sustain themselves creating travel videos through YouTube. "Since we want to keep our content moving, it's better for us to move quickly," Ashley said.
Josh, an entrepreneur his whole life, prefers being his own boss than reporting to someone else. "We have the freedom to do whatever we want," Josh said. "Within budget," Ashley added with a laugh.
The couple was working for a non-profit in Los Angeles, and after deciding to go on the road, they sold their two cars and any belongings they had and invested in their own business. Even though they make enough money to support their way of life, since they don't get a reliable paycheck they are not worry-free. "There's a lot of stress that this has to work out or we have nothing," Ashley said. "We are more in control and in some ways we're in less control," Josh added.
The Browns are not the only nomads having this feeling. Solomon also commented on the struggle she goes through with this particular way of life. "It's so stressful, you're a little bit concern on where you're going to get money from," Sarah said.
Heinz explained how working remotely is not the same as working in your home country. "The stakes are a little higher. As much as I do a lot of fun stuff, there's still that element of you have to put a lot of hard work to make it," Heinz said.
"In life you should have a dream and go for it," Heinz said. "You just have to be very organized."