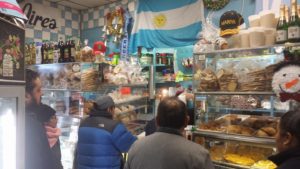 The world of small business owners is gradually being shook by the phased increase of the minimum wage signed into law by Governor Andrew Cuomo in 2016. Under the law, small employers, defined as having 10 or less employees, have had to gradually increase their hourly pay each year since 2016 and will continue to do so until 2019, when the minimum wage is scheduled to reach $15 per hour.
For small business owners, like Ruben Omar Marchissio, the rising minimum wage is his current biggest challenge. "I ask myself: 'how will I be able to maintain this business?'," he said in Spanish. Marchissio immigrated to New York City from Argentina in 1967. Fourteen years ago, he bought an already established Argentinian bakery in Jackson Heights.
This 2016-17 state budget legislation was passed by Governor Cuomo with the goal of restoring economic justice and fairness to working families in the state of New York. The legislation constitutes an increase in minimum wage every year on the same date, December 31st, until it reaches $15 per hour on December 31st, 2019.
In New York State big employers (11 or more) and small employers (10 or less) are paying their employees the same amount of $15 an hour of minimum wage, with only one-year difference, big employers will reach the new minimum wage this December 31 with small employers reaching next year.  Marchissio sees this as an unfair act against small businesses. "They put us all in the same bag, that's what Capitalism does. It's cruel," Marchissio said.
Marchissio, owner of Baires bakery on Roosevelt Avenue and Elmhurst Avenue, was forced to cut down his staff and their hours when the minimum wage started to rise in 2016. "I used to open [the bakery] with two employees so it would be faster, but now I am opening with only one employee," he said. "Customers are getting tired of waiting and they are leaving."
Not only is he being affected by the amount he has to pay his employees per hour, but also by the gradual fall of profits. Since last year, Marchissio has seen a fall of 30 percent in profits per week. He has also noticed a decrease in his regular clients due to the fact that he had to raise the prices of his products to help ends meet. "Whenever I raise my prices, my costumers complain to me," Marchissio said. "I've started to wonder how much can I raise my prices without losing all my clients."
Michael Saltsman, managing director of Employment Polices Institute, recognized the tough situation that small business owners are going through in New York, where labor costs are increasing. "I think [small] business owners are going to have to get more creative in how they adapt to this," said Saltsman before telling a story about a San Francisco restaurant that adopted the model of making their costumers get their own refills at the bar in order to reduce labor costs.
For those who don't own their space, another challenge faced by small business owners in the era of rising minimum wage, is higher rent. Marchissio doesn't own the property where his bakery is and he doesn't have the money to buy it either. "This might have been the cause of my recent heart attack," he said. Marchissio, who less than a year-and-a-half ago underwent open heart surgery, has considered selling the bakery so he doesn't have to deal with the stress that this new legislation has caused him.
On June 2016, the Black Youth Project along with the Associated Press and the National Opinion Research Center conducted a survey of adults ages 18-30. The survey asked the individual's views on minimum wage, whether they believed it should be kept at $7.25 an hour, should be eliminated, should be raised to $12, $15 or $20. Out of all the respondents, 43% said it should be raised to $12 and only 19% said it should be raised to $15.
Despite the fallout of the rising minimum wage, other small business owners feel differently about the biggest challenge they face. According to the most recent Wells Fargo/Gallup Small Business Index released in July 2018 the number one challenge facing small businesses across the nation is hiring good and qualified staff and retaining them.
Marchissio admits the hiring issue is indeed an ongoing problem too. Still, it is the minimum wage increases that Marchissio feels have been the biggest threat to his livelihood. Although he admits he probably will have to make moves to sell the bakery because of the stress and his health he doesn't like to feel as if a government policy is what ultimately forced him to close his business. "I would die hugging the oven," he said. "Nobody will force me to leave."