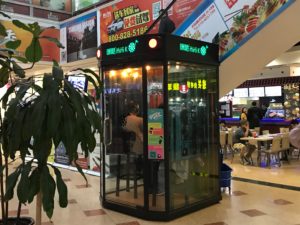 It's like a phone booth where the phone is replaced by two microphones and a touchscreen. It's a karaoke private room customized for a couple or two best friends. A mini karaoke booth popped up in the New World shopping mall at Flushing in August, offering a cozy and well-equipped singing space.
"It's supposed to be the first mini karaoke booth in New York and even the US, " says William Shao, the shopping mall's manager. "We introduced it here because it is quite trendy now in China since two years ago and Flushing has a big Chinese community."
The karaoke booth is 7 feet tall and takes up approximately 24 square feet. When in use, the light effect and air conditioner will be turned on. Compared to a traditional karaoke room that is normally 5 times bigger in size, the karaoke booth satisfies some customers demand for more privacy.
"I used to have a trauma for karaoke because people kept telling me I couldn't sing and it embarrassed me," said Crystal Huang after singing a Mandarin pop song with a girlfriend, both high school students who live in the Queens. "In the booth, I put on the headphones and shut the door, and I can finally sing with no fear to be judged."
Another part of the attraction is the affordable session prices compared to a night at a karaoke bar. Customers can choose to sing a song for $2 or half an hour for $8 and an hour for $15, while a karaoke bar normally charges $35 at minimum an hour in New York City.
"When school life gets busy you can seldom make time for a whole night to hang out at a karaoke bar," said 18-year-old Lauren Lian, who just started college. "The karaoke booth enables you to take a short break with pocket money."
With their compact size and inexpensive price tags, karaoke booths have become a real game changer of the karaoke industry in China. It is an affordable choice for entrepreneurs to give a shot at, too. On Taobao, the Chinese version of Amazon, karaoke booths are sold for about 25,000 yuan or $ 3,640 US dollars.
As more booths pop up in the malls in cities like Shanghai and Beijing since their debut in 2016, the market scale of mini karaoke in China has reached over 3.5 billion yuan or $510 million by the end of last year, and will grow over 14 billion yuan or $2 billion by 2019, according to a Chinese media white paper of 2017. Meanwhile, the scale of traditional karaoke bars has declined by 13.3% since 2010, according to another Chinese karaoke market report.
But it seems that so far this thriving trend overseas has not worried local karaoke owners in Flushing, Queens.
"I think mini karaoke is still a relatively minor business [in New York]," said Justin Jiang, manager of the Real KTV, a luxurious-looking karaoke bar on the top floor of the same shopping mall that is home to the booth. "We are making profits as usual and haven't sensed any difference since the booth came."
Jiang added: "We are appealing the same amount of American and Chinese customers here, and I doubt if a karaoke booth can do the same. It doesn't offer as many English pop songs as we do. Plus, the space in the booth could be too small for some westerners."
Indeed, Paul Mubarak, who is 6'2'', passed by the karaoke booth but failed to take a seat. "It's funny that I found nowhere to put my legs," said Mubarak. "But I sure will recommend this booth to my daughter."