You don't have to be a news junkie to know that this year's election is about two things: immigration and guns While stop and frisk is actually illegal, there are other ways New Yorkers are trying to reduce gun violence. The gun buyback program is one of them.
The Business Improvement District in Sunset Park initiated their program in 2013. It is part of a citywide program to get illegal guns off the street. It was introduced in Sunset Park in response to concerned business owners. However, the program is showing flaws.
"The guns that are coming off the streets aren't the ones that cause mass killing," says Leah Barrett, Executive Director of New Yorkers Against Gun Violence, "you'll get hunting rifles, but not machine guns."
Over 2,000 guns have been collected over the past six years, but that number has significantly dropped off after the first year. Citywide, the program only had 88 guns bought in the last year, according to reports given to the New York Daily News last year.
"It's encouraging for the community," explains Senior Pastor at Sunset Park Community Church Margie Pitta. "Sadly enough, it's Hispanic and blacks that are targeted for guns."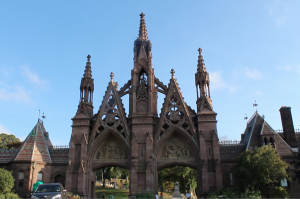 Pitta has been living in Sunset Park since she was nine years old. She emphasized the ups and downs the community goes through in terms of crime. The iconic crime of the 1970s and 1980s featured large groups of gangs in the neighborhood. Pitta recalled how dangerous it was to be outside after dark. It could come at the price of her life. The residual feelings towards these gangs linger.
Since then, crime has generally gone down. Sunset Park has even been named youngest, trendiest neighborhood in Brooklyn several times by local media. Many community members attribute this to gentrification.
"Gentrification is pushing poor people out, but gentrification does not mean that the violence is going to go down," says Pitta, "violence is not limited to once race."
In the last year, the number of shooting related incidents are on the uptrend. In 2015, there were two reported gun related incidents. As of September 25, that number has increased to six. While the numbers seem small, it is the first time in six years that the number has increased according to the 72nd NYPD precinct crime report.
"The gun buy back program is superficial," says Barrett, "the root of the problem is gun trafficking and loose federal regulations."
Barrett referenced how easy it is to smuggle guns across states lines. A New York Times investigation found that more than two-thirds of guns tied to criminal activity in New York were traced to out-of-state purchases in 2014. The stakes are high, but the money might be worth it. The low prices of guns in Southern States allow for a high profit when selling in strict gun states like New York. For example, an $80 Crosman M4 Bundle .177 Caliber Riffle bought at Walmart in Virginia is not sold within New York City borders.
"About 120,000 Americans are shot every year," explains Barrett, "and it costs about $229 billion a year."
The New York Academy of Medicine found that once gun violence goes up in the summer, local hospitals cannot handle the after math, especially in Sunset Park, which is considered a high risk area. But 70% of residents in the neighborhood are not a United States citizens, and 33% of the residents are uninsured. When violence does occur, especially gun violence, residents are not inclined to get help because of their lack of insurance. The effects of gun violence go beyond the purchase of a gun.
"It should be considered a public health crisis," says Barrett.