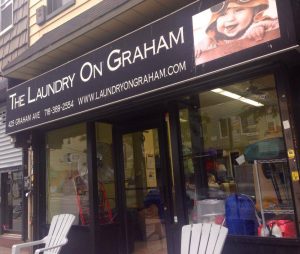 It's difficult to walk down most New York streets without seeing "green" signs, whether it be on food packages, in coffee shop windows or on tote bags. Laundry cleaners have recently started to join the movement.
"It's very clear that all businesses have to become sustainable," says Philippe Christodoulou, founder of The Eco-Friendly Laundry Company, who opened his first eco-friendly laundry service in Buenos Aires in 2010 and now owns a shop in the West Village.
Indeed, the dark side of laundry businesses is coming into light. Perchloroethylene or "PERC", a chemical solvent used in approximately 28,000 U.S. laundry cleaners according to the United States Environmental Agency, has been showed to pose great threats to human health as well as the environment. The harm occurs when putting on or simply smelling newly cleaned clothes and when chemical waste goes into the ocean, affecting both plants and aquatic life.
New York State Department of Health conducted a number of tests proving some of PERC's negative effects, including reduction in color vision tests and red blood cells, increase in levels of biochemical indicators of liver or kidney damage, effects on the immune system and fertility. According to the health department, epidemiological studies have also shown a link between PERC exposure in the workplace and several types of cancer.
NYC Environmental Protection has set forth proposed amendments to prohibit new dry cleaning machines from operating in residential buildings. It has also asked existing dry cleaning operations to stop cleaning with PERC or move to non-residential buildings by 2020.
California has already banned the chemical entirely. Still, it is the only state to have done so, and the severity of the issue does not seem to measure up to general awareness in an otherwise eco-friendly focused world.
"I think it would be different if it was an issue that was brought up as much as recycling or organic food," says Kirsten Bode, a New Yorker living in Greenpoint. "Because clothes is dry and you don't feel the chemicals going into your body, you don't really think about it.
What has often challenged green products and businesses is that they are sometimes seen as luxuries. Green friendly goods and services have the reputation of being more expensive. The Eco-Friendly Laundry Company charges $1.30 per pound: a very standard New York price. In fact, the eco-friendly laundry cleaner Clean Green on Nassau Avenue in Greenpoint charges only $1 per pound, cheaper then its non-green competitor down the street which charges $1.28 per pound.
Yet green laundry cleaning is far from being standardized. Even for someone like Holley Witchy, a local Brooklynite who tries to consume only organic products, green laundry isn't a natural choice. "I'm very environmentally aware but convenience outweighs it," Witchy says.
The general lack of concern for green laundry could perhaps explain why most laundry cleaners still use chemicals – and why even those who claim to be green cannot always be trusted by their label. "There's no law around it," says Cristodoulou,  "You can say whatever you want. Almost every other industry isn't regulated."
Although an increasing number of laundry cleaners put up green stickers on their front door, water waste, the use of plastic bags and excessively high or low water temperatures are still a relevant issue for many of them.
However, Cristodoulou firmly believes in the future of green laundry cleaning. Sure enough, The Eco Friendly Laundry Cleaning will be opening a new shop on Third Avenue next week. "A lot of people don't know about us," Cristodoulou says, "But we will get there."