The smell of salt water swallowed the air and the ceiling fans shook violently. The wind smacked against houses and windows. This was the reality for thousands of New Yorkers during Hurricane Sandy. Four years later, and Sunset Park is still recovering. They're also fighting back.
Angela Jefferson oversees Project Hope, an initiative that began at the Lutheran Family Health Centers Family Support Center in Sunset Park. What she found was most communities needed was organization.
"Once the immediate issues were resolved, the bigger aid program left, but not everybody was fully recovered," she explained. "It became hard to navigate new systems when old systems in the neighborhood weren't resolved."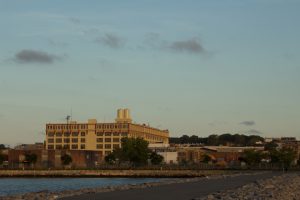 Many public schools in the neighborhood are still trying to organize the layouts of their schools in order to prevent future damage if disaster strikes again, says Jefferson. The old public school layout typically feature gymnasiums and auditoriums on the first floor, which is where the most damage was done. Now, schools are placing these rooms on higher floors.
Project Hope ended after a majority of their work was completed, but organizations like Uprose are bridging the gap between the community and public action. Uprose is mainly concerned with environmental justice in Sunset Park.
"They listen, even if it takes an extra two hours for that meeting to go on," says former member Jonathan Ferrer, "they've done work for this community that I've never imagined."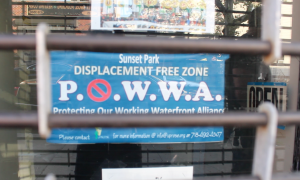 Some of that work is to prevent the effects of Hurricane Sandy from ever happening again. Climate Justice Community Resiliency Center was created based on the concerns the community raised to the organization. In response, Uprose pitched a collaboration with the RAND Corporation, the New York City Environmental Justice Alliance, and The LifeLine Group to begin researching the chemical threat that factory plants on the bay have on residential areas. The National Institute of Occupational Safety and Health funded the project.
Their work becomes more relevant as the United Nations Summit came to a close this past week. A major theme throughout was the global threat of climate change. Many leaders called upon China and the United States to help reach the United Nations Sustainability Goals. While address the floor President Obama argued: "It's not only the right thing to do, it's the smart thing to do."
The residents of Sunset Park are doing their best to be a '"smarter'" community. Hurricane Sandy might be long gone, but it has left lasting memories to all those involved. As the second most expensive hurricane in the country, it's clear to see why residents are preparing for the worst.
"Kids are afraid every time it rains, they are going to have another Sandy," says Jefferson, "It's a lot of recovery."