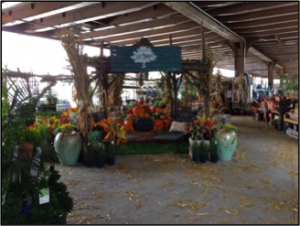 Dimitri Gatanas has been surrounded by the garden retail industry his entire life, so it wasn't surprising when he took the reigns of his family's business. It also wasn't unusual when he moved the location of the business seeing as it had been moved several times since it was first opened. But when he chose the next spot for his family's garden business to be underneath a busy overpass in East Harlem without direct sunlight, electricity, and running water, Gatanas raised a few eyebrows. And that was exactly what he needed.
The Urban Garden Center roots stem from Dimitri's grandfather, whom he shares his namesake. Dimitri Gatanas Sr. started as a florist in 1959 opening a flower shop on 89th and Madison. The flower shop soon grew into Dimitri's Garden Center at 86th Street between Lexington and 3rd Avenue where it stayed for 10 years. The neighborhood changed, rents rose, forcing Gatanas senior to move his business to 2nd Avenue and 102nd street (his old 86th street location is now a Shake Shack.) For 25 years the center stayed put and made a name for themselves.
Dimitri accredits the success of the family business to its fully embracing every media outlet and for being an active member within the community.  He took over the reigns about 5 years ago. "When I took over my grandmother and grandfather's business, I took over my grandmother and grandfather's business. I was this guy that was trying to fill shoes," said Gatanas . "Now we feel like we're creating our own path, we have our own shoes that somebody else might have to fill one day".
Gatanas, who runs the center along with the other family members including his mother daughter of Dimitri Senior, changed the name from Dimitri's Garden Center to the Urban Garden Center and set out find a new location again.
Gatanas found the spot underneath the overpass in East Harlem and jumped on it. The property did not have direct sunlight, or other modern amenities, but rent was cheap and it was a good place to pick up where he left off. When social media began to pick up in popularity Gatanas jumped at the idea to start advertising. Looking back, Gatanas is shocked at the disparity between the cost of ads then and now. Today advertising is almost entirely free. In comparison, Gatanas estimates that from 2006 to 2007, the Urban Garden Center spent around $50,000 on advertising alone whereas in the last four years they have only spent $4,000. Gatanas estimates that back when Google AdWords was a more popular mode of advertisement, he was spending $3000 dollars a month on that particular outlet.
With social media being such a valued part of any business, small or large, Gatanas made sure to embrace every aspect of the trend in an effort to further the UGC. He says with this form of advertising it is important to always be in people's faces with your message. The UGB has a working website, which allows users to purchase their products online; Gatanas is active on Facebook, Twitter, and Instagram. Because of the lack of electricity, the Urban Garden Center was forced to get creative with their customer service. Instead of buying an electrically powered register, Gatanas uses an app called, Square. It can be downloaded on an iPad and allows customers to pay with their credit cards. In addition to that, Square helps guide customers who have googled UGC products via their search engine. If there is a social media outlet of merit, one can be certain the Urban Garden Center is on it.
Advertising becomes most important during the times when business is slow. Like any trade, there is a seasonal difference between sales. For the UGC, winter is the slowest time for business and they have to rely heavily on receivables. But having seasonally relevant services and products helps keep the Urban Garden Center alive. They sell firewood, and Christmas trees to stay afloat. But come March and the UGC is alive and thriving again. Gatanas says that he estimates that sales increase by upwards of 1000 percent during this time. His employee, Ray Alvarado, agrees with this statement. Alvarado says that the center is at it's busiest in March, with regular customers coming back week after week.
Aside from social media, the Urban Garden Center enjoys being an active member of the Harlem community through promoting local products and facilitating community events. They accomplish this by selling local seeds, products, and other Upper Manhattan specialties. In return, these businesses reciprocate and help spread the word about the UGC. Without a formal contract these reciprocal advertisements are more of neighbors helping neighbors. The UGC also has pig and lamb roasts, and a kids gardening group called, the Urban Garden Center Kids Club that teaches local children about how to create their own nursery.
Despite Gatanas' optimistic outlook about this year's revenue, it wasn't too long ago that the Urban Garden Center was on the brink of financial ruin. On March 12, 2014 a building next to the overpass exploded, killing 8 people. The chaos caused the Urban Garden Center to shut down for almost two months. In addition to the shock of losing some of their neighbors and friends, the Urban Garden Center almost didn't recover. But with the support of their community and their stable presence on social media, Gatanas was proud to announce that sales have nearly doubled since last year and he suspects that economically, the UGC will continue to do well for this upcoming year.
Gatanas estimates that the Urban Garden Center building structure is comprised of 90 percent of recycled material adding substance to UGC mantra of being environmentally conscious. It's appealing design, the Gatanas family rearranges the entire center once a week helping to make UGC a destination."People come in on a regular basis even if it's not to shop," boasts Aspasia Gatanas, Dimitri's mother and daughter of Gatanas patriarch.
As a family business UGC has already beat the odds, lasting in some form for more than 50 years. There is now a 4th generation of Gatanas vested in the success of UGC. "We had some hunger. When you don't have money, you look for money," said Dimitri Gatanas. "When you don't have the money you just put your whole body and your soul into the whole thing…ultimately I would say that's the secret potion of all this. We really put everything we had into it"