By Ying Lu
A year ago, Brooke Stevens moved from rural Pennsylvania to New York City with her fiancé, who studies business at NYU Stern. She didn't know the city well back then, so after getting recommendations from friends and family, she decided to settle down in Astoria. Now, she is a real estate agent, and she still believes that Astoria is her best option to live in the city.
Stevens is not the only young professional who is choosing to live in Astoria in the past few years. In fact, even though the property values have been growing rapidly in Astoria for the past five years, many young professionals are still flocking to the neighborhood.
"The whole New York City [price] goes up," said Andreas Petrou, a licensed realtor of Sterling Realty. "But it is not as fast as in Astoria." The rising prices is shown in both the sales and rental market, but the growing rate in rental can reach 15-20 percent per year, while the sales market maintains at a 5-10 percent increase, according to Petrou.
Petrou believes the main reason for the rapid increase is that demand outweighs supply. "Usually landlords give us their apartments about one month before the current tenants move out," said Petrous. "And 90 percent of the cases, we're going to rent their apartments before the current tenants move out."
In the busy real estate season, from April to October, Constantine Ctorides, a broker of BuySell Real Estate, can reach about 20 rental cases per month, even though there are more than 40 real estate companies around this area. The majority of his rental clients are young professionals between the ages of 25 and 35 and moving from out of state.
The data confirms Ctorides' observation. According to the State of the City's Housing & Neighborhoods 2014 report, conducted by NYU Furman Center, Astoria is the only neighborhood in Queens that has showed a large increase of college-educated adults population – in excess of 15 percentage.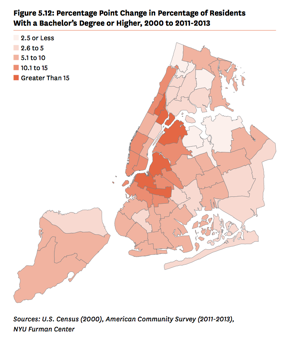 Astoria has experienced large gains of college-educated adults (source: the State of the City's Housing & Neighborhoods 2014 report, conducted by NYU Furman Center)
"Ten years ago, Astoria is considered as an older area, now it is becoming younger," confirms George Halvatzis, an Astoria-based realtor of Halvatzis Realty. Halvatzis said, as Manhattan and Brooklyn get pricier in the past few years, people looking for affordability started to go further away from it.
When Brooke Stevens started looking for housing a year ago with her fiancé, they saw the average price tag for a one-bedroom apartment in Manhattan was $3000. So they started to look to other areas that were "still fun and a decent commute". Then they found Astoria.
The average rent for a one-bedroom apartment in Astoria is around $1600-2000 per month, but it varies differently, depending on the distance to the subway station. Being a realtor and someone who lives in Astoria as well, Stevens said she had trouble getting people to accept extremely cheap apartments more than five blocks from the train station.
"It is not like truly living in the suburbs," Stevens said. "We have all of the conveniences of living in Manhattan, but with a lower price tag."
For people who got priced out of Manhattan or Brooklyn, Queens is always their best option to live in – decent infrastructure and amenities. Astoria, the northwest region of Queens, starts to draw people's attention for its neighborhood reputation and convenience to the city. It only takes 30 minutes on the N or Q to reach Times Square from Astoria.We always has a good, safe commute to Manhattan," said Halvatzis. "People used to know of Astoria, but now everybody really come to Astoria."
The push of young people has brought new bars and restaurants to the area. "The whole commercial section started to upgrade," said Halvatzis.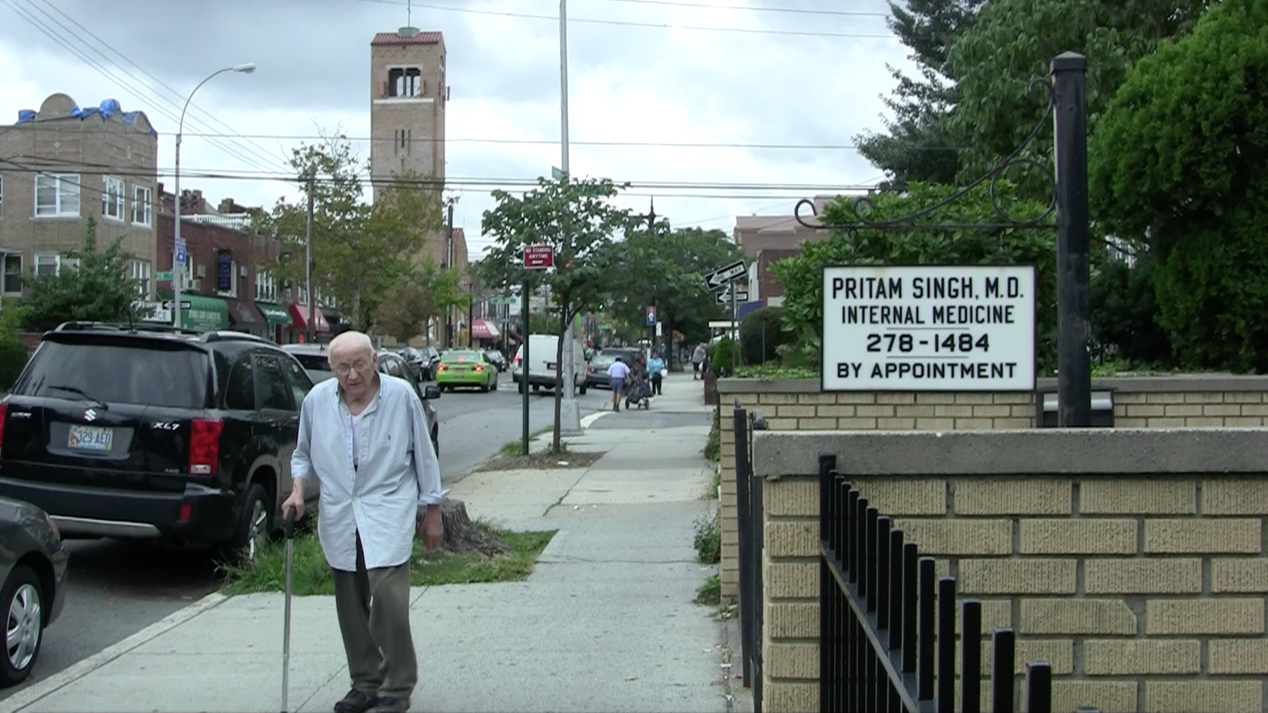 Astoria used to be considered as a senior neighborhood, now facing a large gain of young professional (photo taken by Ying Lu)
According to Jonathan J. Miller, president and CEO of Miller Samuel Inc., a real estate appraisal and consulting firm, said the rapid gentrification of Astoria has been going on for the last four or five years.
"There is an expression in the past few years saying that 'Queens is the new Brooklyn'," said Miller. He pointed out that people who priced out of Manhattan or Brooklyn started to see Astoria as a new hot spot – tremendously competitive commute to the city with relatively lower price. "But relative to people who has been there for a while, the rent is getting higher. And that's the gentrification process that we were seeing in that area."
Even though the gentrification process shakes off some originality of neighborhood feeling, and the property values are constantly climbing up, most long-time Astorians, like Tony Pedro, who has lived in the neighborhood for more than 20 years, sees the moving-in of new business is a positive thing. "You got new restaurants and bars coming in," Pedro said. "That is always a good thing."
Although Astoria is becoming a new hot spot for young professionals, Stevens still feels that Astoria has more personality than other areas of the New York City. "It is not a neighborhood I would say is 'gentrifying' as I would Long Island City is being gentrified, or neighborhoods in Brooklyn have been," Stevens said.
Now that she has spent a year calling the neighborhood home, Stevens is one of its biggest cheerleaders. "Astoria doesn't feel like we made a sacrifice by any means," said Stevens.