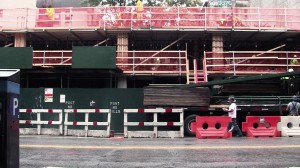 When Red Hook, the last less developed waterfront neighborhood in Brooklyn, was struck by Superstorm Sandy on October 29th, 2012, there was talk that the storm would be too much for the neighborhood to overcome. However, almost three years after the hurricane, the economy of Red Hook is soaring.
"Sandy wiped out dozens of businesses: record companies had their entire repertory underwater; a lot of arts studios with paintings, sculptures, and various kinds of art works were totally destroyed," said Scott Pfaffman, a craftsman and contractor for over 20 years in Red Hook. "Some businesses were damaged so badly that they couldn't afford to restore and had to leave. Some businesses, including mine, were lucky enough to hold on after the storm and bring the business back on line. "
Paffman came to New York from Alabama in the 70s, hoping to be a sculptor. In 1997, he bought a property in Red Hook with a deal that was "too good to pass up". Now he is a father of two and has a family to feed.
"Unless you have incredible luck and talents to get a commercial career, being an artist in the city is not gonna pay the bill," said Pfaffman, sitting in a garden, where his art pieces are flashing — two plaster Buddha heads were half buried under the apricot tree; carved female body parts display on the rusted shelves and fragments of unfinished sculptures are scattering.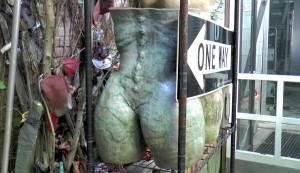 "After the flood went away, my business actually grew. It was salt water that socked people's houses. A lot of equipments were corrupted, which brought me a lot of work," said Pfaffman. Pfaffman's business was not the only one that came to a new life.  "It was strange. The flood, instead of discouraging investments, it seems to make more money pour in."
By the time Sandy struck, the economy in Red Hook was rising. From 2000 to 2011, total firms in Red Hook rose by 37 percent, according to researches from Quarterly Census of Employment and Wages; among all, real estate firms rose by 122 percent. Though some local businesses weren't able to get back on their feet, because the flood put more attention to the neighborhood, much more money from big corporations swarmed in.
"It's a building boom since the flood, " said Pfaffman. It came first as reconstruction works — the city rebuilt the damaged residential houses including flood-proofing basins and ground floors, rust-proofing walls and  equipments — now investment companies are building apartments, hotels, retail spaces and offices.
Back in the 90s, Red Hook used to be an industry-driven neighborhood. When the flood came in, factories by the docks that used to offer hundreds of jobs to the community, were hit hard. Most owners of these factories couldn't risk staying in a flood area and they left.
"It's a nightmare. I remembered back in the 90s, the dining hall was full of workers from the factories. Now? Nobody," said Anthony Piraquivr, an 76-year-old owner of Red Hook Cafe on Van Brunt street. "Of course, residents come in occasionally, but they're not the main source of customers. It's always workers."
Piraquivr opened his restaurant in Red Hook in 1994. He has 6 years left on his 27-year lease. "When I first got this place, the rent was so cheap you wouldn't believe," said Piraquivr. Piraquivr thinks the rents now in Red Hook are too expensive to run a restaurant. "When the lease expires, I'll leave here. I am too old for this."
Piraquivr's was the only shop in the flooded areas that opened a day after the storm. Everything from power to cell service went off. People was miserable. They were cold and shivering because the heat was off. Luckily, Piraquivr still had gas. He thought: "Hey! Why don't we make some coffee?" He opened the restaurant in the morning at 7am that day, and offered food and hot beverage until nighttime.
"People remembered me for this," said Piraquivr. An incredible smell of cheese and pastries came out from the kitchen. Behind the counter displayed scrambled and pan-fried eggs with bacon, pork or chicken tacos with chopped onions and lime, and steak sandwiches with melted cheese. Piraquivr leaned his elbow on the table, gazing at a construction site through the window.
"They are working on new buildings nonstop," said Piraquivr. "I don't doubt that ten years from now, Red Hook will look exactly like the city."
Panlie Knoll, a worker from the construction site, was chewing a cheeseburger. "Contractors from all over the country bid for projects in Red Hook," said Knoll. It's a large cake, and investors all want to take a piece of it.
Scott Pfaffman, the craftsman, crouched in his basement, where he works. The major development happening around him has no effect on his business. "I focus on piping family houses or fixing heaters that kind of stuff, " said Pfaffman, adjusting a gadget. Dozens of paintings, hanging on the wall, brighten up the dingy basement. Upstairs is a storefront, which was rented out as a vinyl shop. As to the rising real estate prices? "There is nothing we can do except to witness," said Pfaffman. "I don't mind the changes. I own this property. I just feel bad for the tenants."