Move over, Silicon Valley; New York City has officially arrived as a premiere tech destination and is triumphantly announcing itself with academic fanfare and lucrative new friendships.  Today, Cornell Tech announced a new partnership with AOL (one of the first major tech companies to choose headquarters in New York) and The Jacobs Technion-Cornell Institute that will invest millions in a new program known as the Connected Experiences Laboratory.
Benjamin Branham, the Executive Vice President of the New York City Economic Development Corporation (NYCEDC), says his agency and the City's administration as a whole has a "laser-like focus" on new tech development in New York.  "Tech produces more than 124 billion in annual outputs, and is now the 2nd largest VC destination in the country," he said.  Branham further praised the tech industry as the key to the city's economic future, saying tech "is growing faster than just about any other sector in the last decade."  The NYCEDC is a non-profit corporation tasked by the city with stoking all available economic fires, and the money that it has poured into tech development over the past several years speaks volumes about where officials expect future job growth in NYC to spring from.
Cornell Tech is a program born out of the city's Applied Sciences NYC initiative; which via the NYCEDC challenged major colleges and universities to create world class engineering and computer science campuses based in New York City.  Cornell, along with Columbia, NYU and Carnegie Mellon, were awarded support from the NYCEDC to open new technology post-graduate programs that they say will effectively double the number of graduate students in computer science and technology in New York.
Collectively, these four schools are in the process of building brand new campuses that the city says will create over 48,000 new permanent and construction jobs; Cornell Tech's massive Roosevelt Island campus will add 20,000 construction jobs alone before its completion in the summer of 2017.  When the school opens, it says it will offer 8,000 new permanent campus positions.  Further, NYCEDC predicts the new academic programs at these Universities will create approximately 1,000 spin-off companies by 2046, which presumably will create significant employment opportunities of their own.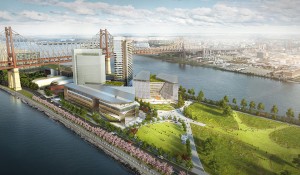 Projected Design for Cornell Tech's Roosevelt Island Campus
Cornell Tech is less than two years into its new programs, boasting over a hundred full-time graduate students; around 85 in master's programs with another 25 in PhD programs and around 20 post-doctoral fellows, according to Daniel Huttenlocher, Dean and Vice Provost of the school.  The eventual goal is for 2500 students and 200 faculty to populate the 20 million square foot campus on Roosevelt Island, which will also provide housing for 2,000 students and 280 faculty members.  Huttenlocher says the new Connected Experiences Lab partnership will expand the school's data research wing, investigating how the digital world continues to intersect with our everyday lives, hopefully promoting future tech business and social technologies.  "The world around us is increasingly digitally mediated and digitally enabled.  It's hard to do almost anything in the physical world without a digital component," he said.
Tim Armstrong, CEO and Chairman of AOL says the company is investing in tech education in NYC because of a desire to see the City's innovation advance to rival the reputation enjoyed on the west coast.  "If you could choose one city in the world to go to to learn what the future of the world would be from a technology standpoint," he said, "I think New York City is going to end up being the best place in the world for that."