October 4, 2018 Comments Off on African-businesses rises despite the challenges
The odds are stark, however,African immigrants are making tremendous efforts to settle down in the U.S. With the impressive data on the issue, one may not be wrong to say U.S remains an investment haven for many immigrants.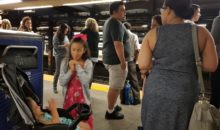 September 26, 2018 Comments Off on Routine weekend maintenance on train tracks irks passengers
New Yorkers contend with subway delays as politicians trade accusations on how to fix the system. The latest statistics revealed that on average more than five million people use the subways to commute during the weekday.