The streets of Harlem have been a canvas for cultural expression, political activism, and educational inspiration throughout time, but what happens when such a storied neighborhood becomes gentrified? Can historic murals exist in the face of high-rise apartments and commercial real estate? Legendary mural artist Louis Delsarte and Harlem based non-profit Creative Art Works are finding that this collaboration is possible.   
Located on the corner of 125th and Frederick Douglass Boulevard is a vibrant glass mosaic that has captured the hearts of Harlem residents since its reve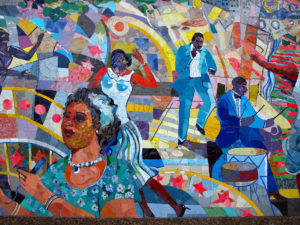 al in 2005. It is Louis Delsarte's, The Spirit of Harlem. According to Louis's wife Jae Delsarte, "There is an emotional connection to the mural in that it highlights and pays respect to artists who were there during the Harlem Renaissance. People come from around the world to see it."
In November of 2017 the corporation Footaction, parent company of Foot Locker, bought the building and overnight bricked off the iconic mural. Louis Delsarte could not believe it.
"I use to take the subway and walk down 125th street to look at it and I was shocked to see that the mural was not there," he said. "I thought I was on the wrong block. I kept asking people on the corner, 'what happened to the mural?' and nobody knew."
When Harlem residents noticed what happened to their beloved mural they galvanized behind the artist. Activist Maria Liriano created a petition with over 2,000 residential signatures. The reaction from the community got the attention of the district's State Senator, Brian Benjamin, who got behind the effort and started a conversation with Foot Locker. Within months the company immediately issued a statement to the National Coalition Against Censorship that stated: "We recognize that we disappointed you. It was never our intention to upset those in the community."
 Footaction pledged to work closely with artist Delsarte and make all necessary efforts to remedy the situation at their own costs. As of May 2018 the mural has been fully restored to the community.
"If companies and communities continue to talk with municipalities and government, that is what you want and what I'd like to see in terms of preserving murals that the communities feel are important," said Jae Delsarte.
Creative Art Works is also trying to preserve Harlem's culture using a slightly different approach. The 32-year-old non-profit's mission is to educate youth through art and integrate street artists directly into the new commercial environment of Harlem. They have commissioned over 75 different works of public art in New York Ci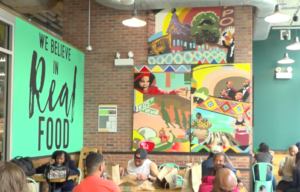 ty, with the bulk of the work being on the streets of Harlem. The organization's Director of Development, Karen Jolicoeur, collaborated with the residentially contested Whole Foods on upcoming projects, but found that her experience with the organization was nothing but positive. "They were not only open but eager to incorporate Harlem's culture into it's supermarket," she said.
Creative Art Works was commissioned to create three works of art that exemplified Harlem's past, present, and future. The artwork is currently displayed inside Whole Foods and is supposed to be forward looking. "Whole Foods was committed to listening to the community's input and wanted to incorporate local culinary dishes and local products onto their shelves as well," said Jolicoeur.
Creative Art Works is now commissioned to create artwork and murals for the new Shake Shack on 125th Street expected to open this Fall.
With partnerships such as these, Harlem's murals and aspiring street-artists have the potential to integrate into the changing environment and grow hand-in-hand with the gentrification of the neighborhood. Jae Delsarte hopes that "a two way conversation" will continue as Harlem grows. "Gentrification doesn't have to be painful for anybody, as long as everybody comes to the table and participates and is allowed to participate," said Jae Delsarte. "I would like to see gentrification and revitalization be words that no one fears."