With a brush raised in the air, Renee Sendelbach forgot the next stroke. Staring at the canvass, she thought it would be better to call a halt to a day's work. She can only lie down, listening to audio books or watching TV.
"I'm just mentally fogged and exhausted," said 39-year-old Sendelbach.
Deeming herself as a critical painter, the metastatic breast cancer patient eventually faced up to the fact that sometimes she can only paint for 20 minutes a day at maximum, or was unable to "doodlize" the pictures she saw on Pinterest in the morning.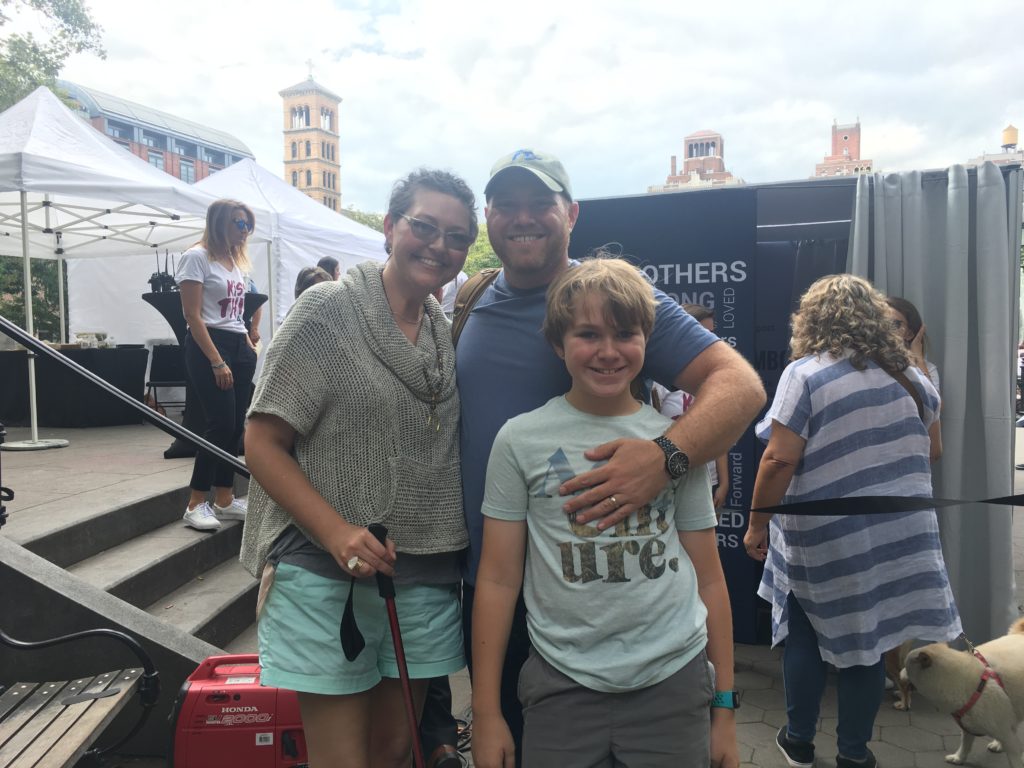 Renee Sendelbach(left) accompanied by her family, attend an event to promote metastatic breast cancer awareness in Washington Square Park.
It is a common symptom for metastatic breast cancer patients if cancer goes to the brain, according to Christine Benjamin, Breast Cancer Program Director of SHARE Cancer Support.
It is currently an incurable form of cancer spreading from the breast to other parts of the body, including brain, bones, or liver, according to a press release provided by Novartis Pharmaceuticals Corporation on September 15. Up to 1 in 3 people diagnosed with early stage breast cancer will ultimately develop metastatic disease, which some 155,000 Americans are living with, said Novartis.
In 2008 when Sendelbach's son was 13 months old, she was diagnosed with Stage I breast cancer. About 18 months later, the breast cancer cells had not been curbed by chemotherapy and radiation. On the contrary, they spread to her lungs and bones.
She underwent three operations on tumors in her brain – they repeatedly grew at the same spot between 2012 and 2013. Sendelbach also received a bone marrow transplant in 2016 due to pre-leukemia conditions. It was caused by Stage I treatment, in spite of the fact that the incidence rate is only 0.5 percent, said Sendelbach.
"What about my kid and husband?" Sendelbach had been haunted by the question ever since first struck by the disease.
It was echoed by 54-year-old Gerry Wallace when breast cancer cells were found to have already spread to her bones in 2011. "I thought I would die tomorrow," the Philadelphia-based single mother recalled. "[But] I don't want to miss their life. I want to see them grow," she added speaking of her son and two daughters.
Wallace's children are all in college.
"They have to make money in the summer for their tuition … I feel awful that I cannot give some support," Wallace said. Unable to work, she now depends on $1,600 monthly benefits for people with disabilities. She has stopped paying $2,000 mortgage every month, saying "I have no savings anymore."
"Patients sometimes initially blame themselves," Benjamin said in a follow up email interview, adding that they must learn about the disease and come to accept that it is not curable.
"I'll never ever be called a 'survivor,'" Wallace said peacefully. "There are few [treatments] available to me now. When cancer outsmarts all the drugs, I'll die from cancer."
Although Sendelbach found it difficult to be even a "PTA mom," she has no choice but to be easy on herself since she has suffered from migraine, shakiness and exhaustion.
While their families concern them, metastatic breast cancer patients themselves may feel alienated from their friends and families as well as from the larger breast cancer community as they are not "survivors," Benjamin said.
She noted that patients may see support from friends and families wane if they are able to function normally or close to normal for a time.
Initial treatment did not leave Wallace looking like a patient with a fatal disease. She did not stop working completely until last August. Her friends, therefore, gradually visited her less often.
As for her siblings and parents who live in Maine, Wallace merely felt "conditional love." "My siblings don't communicate with me. My dad does communicate, but he has never asked how I am doing, how the children are doing or do you need anything. He never said I love you."
Her son, the only man in this family, gave up a school which is far away from home but provides scholarship, deciding instead to study at Drexel University, a 30 minutes train ride from home.
"If something happens," Wallace said, "he could come home and take care of his two younger sisters."