NEWS ANALYSIS
The recent acquisition of Livestream, a Bushwick based video streaming service, by Vimeo, a subsidiary of IAC, demonstrates another major company's attempt to penetrate the live-streaming market.
Vimeo says it has over 100 million users which is much smaller than the reported well over 300 million users of Twitter and 2 billion users on Facebook.  In terms of platforms with live-streaming capabilities, they fall far behind the industry leaders. However, Vimeo's purchase of Livestream, for an undisclosed amount, shows that the company is heavily investing in the technology despite the current foothold industry veterans like YouTube, Facebook, and Twitter already hold.
YouTube, Facebook, and Twitter together make up approximately 70 percent of market share in terms of visits in the U.S., according to Statista, an online research database. In terms of online video platforms, Vimeo represents only a small fraction of streaming content visits, or less than 1 percent.
According to Datanyze, an organization that provides sales information to businesses based off of its data collecting technology, Livestream is ranked number two in terms of market share for live-streaming technologies in the United States. Given Vimeo's limited resources it is difficult to imply that this acquisition is representative of a Google type model where a business buys up dozens or hundreds of innovative technologies. On the contrary, its purchase, along with its subscription model, indicates a much more focused approach to appealing to businesses and organizations.
"When we were evaluating streaming platforms years ago, Livestream was the most established and sophisticated," said Jaime Marland, Director of PR at the Rhode Island School of Design. RISD has used Livestream for dozens of it events, including several of its Commencements. Marland also described how the technical advantages Livestream brings are useful for her employer.
Although Livestream declined to comment at this time on the sale and what it means for the organization and its employees, at the very least the purchase likely means more individuals involved in developing business partnerships. For Vimeo, these partnerships that Livestream has with organizations like RISD are now opportunities for it to expand its reach.
For example, Experience-Interaction, a marketing and brand agency, has frequently worked with Livestream to bring streaming for its clients. Jesse Resnick, Founder and CEO, pointed toward a specific case study explaining why this partnership exists.
Based off the tiered subscription system and its branding and features found on it's website, Vimeo is targeting a much different demographic than its live stream competitors like Facebook of Periscope/Twitter. Its 'Live' pricing model starts at $75 per month but can be as expensive as $800+ per month. This is a much different strategy than the other organizations like Facebook with pricing, or lack of pricing, that appeal to a broader consumer base.
Vimeo's "Business Plan" distinctly offers 10 members for channel and video collaboration along with more specified statistics with Google Analytics integration. Additionally, Vimeo has already put forward extensive customization options for Vimeo Live that do not appear to be available for Facebook, Twitter or YouTube like simultaneous event streaming, 5 hour limits for each event (compared to 4 hours for Facebook Live) and 5TB of auto archiving storage. These services are not wholly applicable to a regular consumer. Although Vimeo does offer live chat communication there is much less emphasis than that of Facebook Live which has pushed it as a key feature. This may indicate Vimeo's focus on internal business use of live streaming technology rather than business to consumer.
This is contrary to Facebook and Facebook Live, which invested millions of dollars into persuading media moguls into using its service to give feedback and attract consumers. This push appears to have been successful as shown by a conference call concerning the first quarter earnings of 2017 where Mark Zuckerberg, CEO, states that, "daily watch time for Facebook Live broadcasts has grown by more than 4x."
Past Vimeo ventures, such as Vimeo Originals, appear to have been targeting creators and consumers – both in its branding and content (see Netflix and YouTube Red for similar models).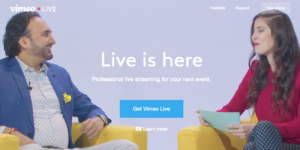 Although, Vimeo Live is a new service, there is an expectation to find some kind of advertising akin to Periscope, Facebook, or YouTube, if it were trying to capture a similar demographic. With its acquisition, Vimeo appears to be co-opting an enormously popular technology with its name brand.
However Vimeo's foray into live content may be too little too late. Even with Livestream's partnership base, established competitors may have captured the majority of the market. For example, a media representative at Web Summit HQ, a technology conference organization, admited that Livestream was used in the past but that they have opted to use Facebook to stream its content now.
Another organization, NYSE Euronext, a financial and tech organization, who have also worked with Livestream, acquired a majority stake in a different live streaming company called Company Webcast, according to a press release from earlier this year.