Mayor Bill de Blasio is a man with a plan — specifically a $32 million rat reduction plan that he announced earlier this year. De Blasio was in the news again last week pledging an additional $750,000 in funding for the war on rodents. His aim is to reduce rat activity by 70 percent in targeted zones, including Bed-Stuy in Brooklyn.
"It's never going to work," says Donald Clark of Alley Cat Exterminating. While fewer rodents would mean less business for him, he is not concerned. He, like other small business owners in Brooklyn and some residents, has little faith in the city's rat reduction plan.
It is busy season for Clark. His services are in high demand during the spring and fall. "Rats don't like the cold very much, so they tend to go inside," he says. These days the wait for an inspection is between 48 hours and a week.
Clark disagrees with many proposals in the mayor's plan. He takes issue with the proposition of introducing 'rat pads' in certain NYCHA buildings. Under the plan the city will allocate $16.3 million to replace dirt basement floors with said concrete rat pads.
"He wants to cement basements and make improvements to housing projects. It will only make one of his buddies [in construction] richer," Clark says.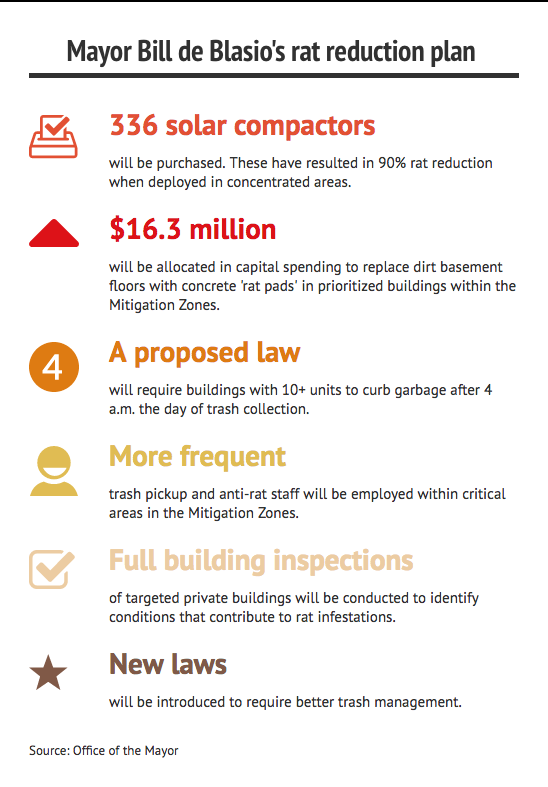 The choice of targeted 'Mitigation Zones' is also curious to him. He gets many calls from neighborhoods like Fort Greene and Brooklyn Heights in Brooklyn, but they haven't made the cut. "They have a huge rat and mice problem there," he says. "But the focus is on Bed-Stuy and Bushwick because they're gentrifying."
Nonetheless, the rodent problem in Bed-Stuy and Bushwick is sizable. Of 1,687 Bed-Stuy properties inspected for rats, 221 failed as per a 2016 Rat Indexing Inspections report by NYC Health.
Furthermore, Bed-Stuy registered 866 rodent-related 311 requests between Jan. 1, 2017 and Sept. 30, 2017. Bushwick registered 527 rodent complaints during the same time period. These numbers are the highest in Brooklyn.
David Brown coming out of a hardware shop on Herkimer Street after buying rat traps says, "We've always had rats like crazy…running around like they own the city."
Thus, to ward off against infestation, many eateries are dependent on the costly services of exterminators.
"Someone comes in every month to check the place out. After that they put up a sign in the back," says Kamilah Fraser of Bedford Hall. Fraser estimates that restaurants spend between $1,200 to $2,500 yearly on exterminator fees, depending on whether its preventative or the establishment actually has a rodent problem.
The neighboring coffee shop, Corner Grind, also has a "guy who comes in to lay traps," says Griffin Keller, one of the baristas. Their establishment has never had trouble with rodents.
Keller and his fellow barista Cooper Shepherd are not familiar with the mayor's plan. "Sounds like way too much money is being spent on this," says Shepherd. "I am not afraid of rats. It's just like a squirrel," he declares. "That's such a strong statement," Keller interjects.
"Still, $32 million?" Shepherd asks. "I can't believe that."
And if the $32 million price tag doesn't get the job done there's always the old school solution.
"Bodega cats," says Brown, "are a New York City institution."