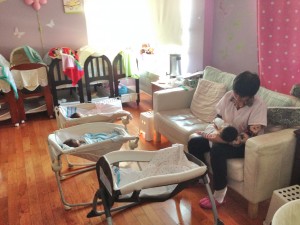 Christina Zhou, an uncertified nurse, was taking care of  a baby in the bay-care center in Flushing
By April Fan 
It's a special scene you will see walking down on Main street in Flushing, Queens: pregnant women and young mothers with babies in strollers are shopping and talking in groups — they're all Chinese. After recent raids of so-called baby-care centers in California, New York City has now the most baby-care centers in the East coast. Most of them are in Flushing, where the City's biggest Chinese community is located.
"I have been here since June," said Nickie Zheng, a 32-year-old mother from East China. Her baby boy was born on Sept 14th. He woke up from a sound sleep, reaching out his chubby hand. Zheng put his fingers in his mouth, gazing at him. "I can't believe how much I love him."
Despite a soaring economy and increasing opportunities in China, thousands of pregnant women still choose to give birth outside the country every year. In 2015, it is predicted that over 60,000 will give birth in America, according to an analysis from Time Weekly report. Poisoned food, polluted air, a huge gap between rich and poor, a lack of freedom of speech, a limited access to Internet among all are the reasons why parents decided to provide their children with a different future— citizenship of the United States.
"It's a society based on connections instead of individual efforts, " Zheng said of China. "I want my boy to live in an American dream."
Taking advantage of the First Amendment that protects birthright citizenship, Chinese mothers usually spend months during pregnancy in the baby-care centers, which provide services including accommodations and baby nursing. In the past ten years, the hottest spots in American soil are Saipan (an American island where the U.S. government does not require Chinese have visas to go), New York City and California. Nickie Zheng's sister gave birth three years ago in a baby-care center in Los Angeles, which now is shut down by the government.
Among all, California used to be the most popular place for Chinese mothers to give birth. Since spring, dozens of baby-care centers in southern California have raided by Homeland Security for dodging taxes, abetting immigration fraud and forging documents to apply public health insurance. The Immigration Department in Los Angeles repatriated dozens of pregnant Chinese women. Some were sent back to China as soon as they arrived at the Los Angeles International Airport; some were deported when the illegal baby-care centers got exposed.
"Los Angeles is no longer safe," said Zheng. "But the customs here doesn't seem care about this." Chinese mothers now see New York City as an alternative. Though no official statistics can be found, by calculating the number of advertisements from the local websites in Flushing, the number of baby-care centers is rising by 50 percent in 2015.
In the living room of a baby-care center in Flushing, mothers gathered here to nurse their babies, change diapers and talk. "There are 12 mothers here. Eight of us already gave birth, others are still expecting," said Zheng, the only mother who was willing to talk about this.
"Giving birth in American is not forbidden though, it is not entirely legal. Most mothers lied to the U.S. Embassy about the real reason why they came to America," said Zheng. Instead of telling the the Embassy they are coming to America to have babies, mothers will hide the fact that they're pregnant and apply for tourists visas. In this way, the odds of being refused a visa will decrease greatly. Because they lie to the U.S. Embassy, they will also have to trick the customs at the Airport, using jackets and scarves to disguise the belly.
It's a brush with the law, but for the women it is worth the risk because they say that police in New York City will not typically stop the crowds of pregnant Chinese women in Flushing for what they did months ago in China when they applied for visas.
"As long as the customs let us in, we are fine here," Zheng added.
Usually the immigration department will give tourists six months for each stay, which is enough for a mother to give birth to an American citizen. "You will need two months after labor for the baby to be vaccinated and get a passport; you will need another month to get medical insurance and find a hospital," explained Christina Zhou, an uncertified cantonese nurse in a baby-care center in Flushing. "Some mothers can't afford the private maternity insurance for tourists, then they have to apply for public insurance."
Such public insurance as Medicaid was designed for low-income American adults and children to receive free healthcare. In 2014, U.S. government spent $3.1 trillion, or $9,695 per person, on health insurance, according to the Centers of Medicare and Medicaid Services.
"Chinese mothers have never paid any taxes to the U.S. government. Of course they can still apply for public insurances, but it will be considered occupying American welfare," said Yalun Lee, an attorney in Flushing. "The consequence is the mother may never return to the United Stated until her child turns 18 and filed an immigration petition for her."
Most mothers will let baby-care centers take care of everything from getting insurance to booking delivery rooms. By filing a passport, forging tax bills and low-income proofs, the baby-care centers will be able to help a mother get public insurance within a month. "Giving birth is painful enough, let alone the complicated paper work," said Zheng. "I am not sure if what they do is entirely legal."
In local Chinese newspapers, you can find many advertisements of baby-care centers, but they never give out real addresses. Only by calling them on the phone, they will verify your identity as a Chinese woman and then give out their real addresses through text messages.
"I don't think there will be a crackdown on us in the near future," said Mary Gao, the owner of a baby-care center. "With all the gun violence, murders and homelessness going on in the City, what we do is too mild to raise government's attention."
"We don't break any law, " Gao added. "We just offer mothers a place to live like what friends do. "
The baby-care centers charge mothers about $30,000 for a six-month stay in one bedroom. They require mothers to pay 10 percent of fees before they come to America, and pay off the rest after labor. All the transactions are done in China, which is a way to avoid taxes and exonerate of wrongdoings.
"We are mothers with children, not Mafia with guns. I really hope someday we don't have to hide anymore," said Zheng. She was nursing her son in one of the center's bedrooms. Throughout the discussion on difficult issues of immigration, the law, and sacrifices, the little guy never opened his eyes. He yawned a bit, eluding his mother's breast. "If it weren't for him, I probably would never come to this country. Now I wish I never have to take him back."