Over 30 angry workers flooded the sidewalk in front of the office of New York State Department of Labor (DOL) in Chinatown Wednesday morning. They handed out flyers in English, Chinese, Spanish, and shouted, "Enforce the labor law! When do we want it? Now!" They demand that DOL fulfill its duty.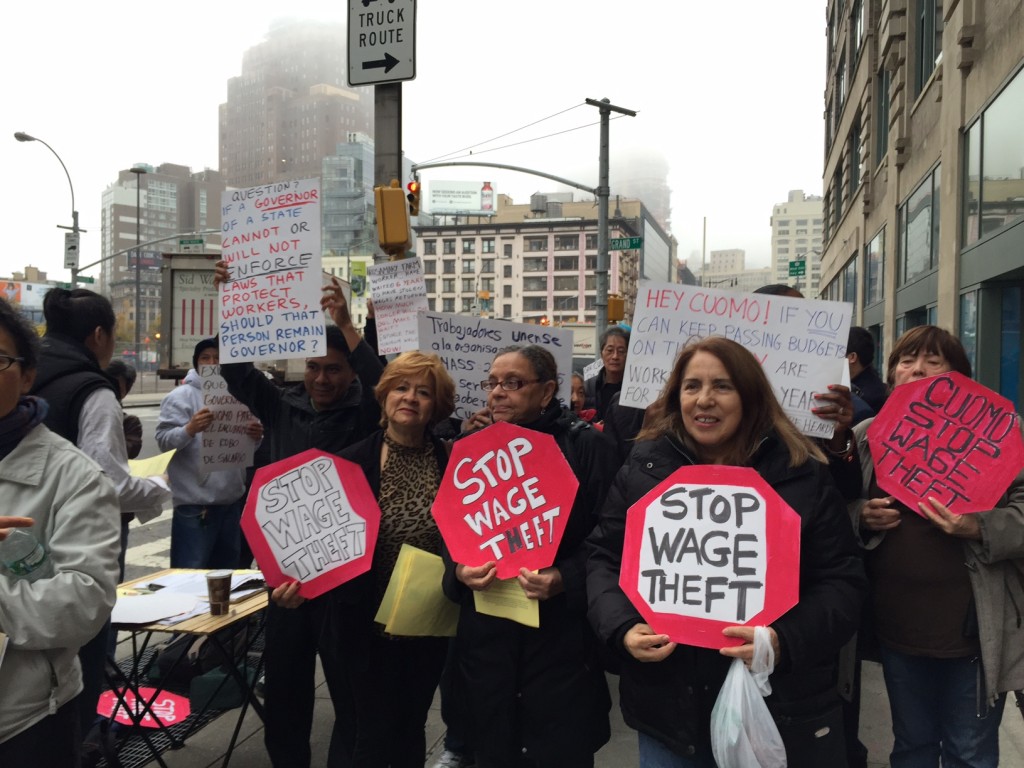 "A lot of us are working hard; however, thousands of workers, are not getting the minimum wage, nor over time, nor getting their tips. How is this happening? Because the Department of Labor is helping the criminals more than the workers, " said JoAnn Lum, Executive Director of the National Mobilization Against Sweatshops (NMASS).
Lum charged that the DOL is failing to protect New York's most vulnerable workers from wage theft, and the cases have piled up and the situation is getting worse. The State Comptroller audited the New York State Department of Labor last year, found the DOL has over 17,000 open cases, and about 75 percent have been opened for a full year or more.
But the DOL is working hard, according to Cullen Burnell from the DOL. Burnell responded in a email that the department had a record year in 2013 when it recovered and distributed nearly $23 million to more than 12,700 individuals.
"The agency each year recovers millions of dollars for tens of thousands of New Yorkers, and is on track to far surpass last year with more than $16 million in wages recovered in just the first 6 months of 2014," Burnell said.
NMASS thinks the DOL is not working hard enough. After a few protests during the year without much progress, it is taking a different approach and is now ready to sue the DOL, said Lum.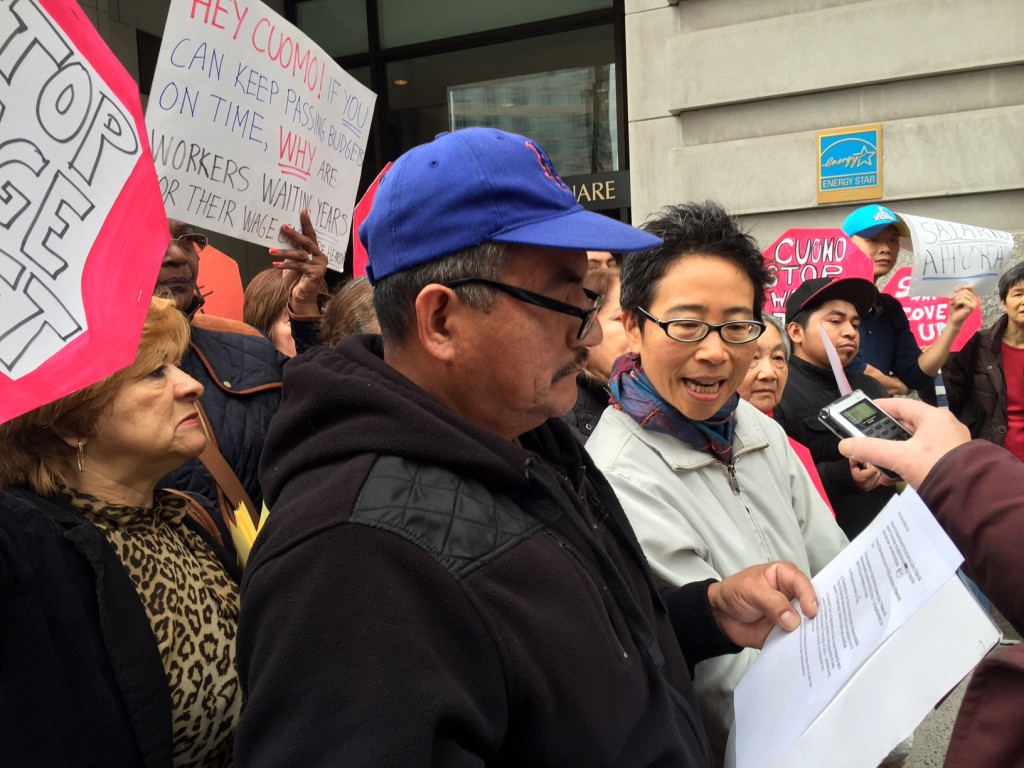 National Center for Law and Economic Justice is working with the NMASS and presenting workers who are awaiting decisions on wage complaints filed against employers for years.
"Collecting workers' back wage is very difficult. The long delay makes the process worse and almost impossible," said Leah Lotto, staff attorney for National Center for Law and Economic Justice.
Yudan Huang, a Chinese immigrant who worked for a clothing manufacturing company, said she filed a complaint against the company for not paying her enough wages, by her estimate more than $10,000. The case is still unresolved after eight years.
"I called the [DOL] office last month, and they said the case is still open. Nothing has changed in the last eight years," said Huang in Chinese. "I know the company has already closed, although the owner has a new business in a different field. Honestly, I don't think my money will ever come back."
Cases like Huang's have become more common because many companies know the trick, and are now trying to switch their company names and transfer their asserts in order to get away with wage theft, according to Jinming Cao, staff organizer for Chinese Staff and Workers' Association.
"I helped a friend filing a claim against a restaurant owner, who was not paying him minimum wage for four years, but DOL only gave him back about seven months wages because the company changed its name," said Cao in Chinese. "The company has the same owner, same sign, is on the same location; and the menu in the restaurant is also the same. All the boss did was change the company name. The DOL did not go after the company under its old name, and refused to track that back pay for the other three years."
National Center for Law and Economic Justice and the NMASS will wait for a response from the DOL on improving law enforcement, and said they will file an official lawsuit, if they do not hear back from DOL in ten days, according to Lum.