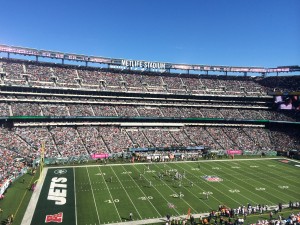 On Generation's Day at Metlife stadium, the New York Jets were miraculously holding on against the Denver Broncos. Players sported hot pink accents on uniforms and cleats as part of the NFL's month-long campaign for breast cancer awareness. Cheerleaders known as "The Flight Crew" carried pink pom-poms and performed routines in the endzone, which predictably involved lots of shimmies and hair flips.  Families of fans appeared on the jumbo screens, including two female cousins and their identical twin mothers. "My shout-out goes to my mom!" "My shout-out goes to MY mom!" "Our shout-out goes to our dad, who took us to our first game 40 years ago. GO JETS."
Football is no longer just a father and son's family pastime, and the NFL stands to benefit as mothers and sisters join the fray.  This season, NFL officials estimated that around 45 percent of all football fans are women, and are one of the most coveted groups even to previously male focused NFL advertisers and sponsors.  Female consumers are far more likely to be brand loyalists, a quality invaluable to the very nature of fandom and the advertising potential of the hometown team.  In 2012, the NFL launched a women's apparel marketing campaign with the kicky tagline "It's my team!", featuring lines of fitted t-shirts, tanks, skirts and sports bras. Ten professional teams now boast fan clubs just for women; this past week the Broncos hosted a "Crush Night" which brought the ladies to Mile High Stadium for cocktails, autographs and, you guessed it, more shopping.
But for all their well-tailored apparel and team-colored cocktails, the league struggles to adequately respond to the darker sides of the sport.  As the NFL revs up its female-centric marketing into overdrive, many women feel the league remains surprisingly unaware of how endless reports of violence against women and rampant sexual assault might alienate female fans.
"If you want female football fans to continue to support the game, which I think we greatly do, there needs to be a conversation with everyone included and feeling properly informed," said Jets fan Paola Espinosa, who moved to New York in 2009 and took up the Jets torch for the social scene and camaraderie she found surrounded it. She feels concerned that the league does not include enough female voices in dealing with these scandals, but rather legislates to fans what they are supposed to feel.
Jessica Luther is a writer currently working on a book about the intersections of gender, sexual assault and football.  She asserts that the NFL is acutely aware that women are often in charge both of the discretionary merchandise budget as well as the guardian of a family's sports loyalties. But their approach is still remarkably tone-deaf.  "It is clear that on one hand they get that women spend money," she said.  "But there is one NFL Shop commercial where a mother is narrating about her family, the one son is a big Roethlisberger fan and she buys him a jersey. Which kills me every time because, of all people, why would you pick Roethlisberger?" Pittsburgh Steelers quarterback Ben Roethlisberger is just one of many professional football players accused but never charged in multiple instances of sexual assault. "It's clear that they only want us to imagine ourselves as mothers buying our family's jerseys", she said.
Many prominent figures have called for mass boycotts and the resignation of league Commissioner Roger Goodell, but such extreme responses are finding limited traction. For female fans, when does their love of football cross the line into supporting an institution that directly contradicts firmly held moral beliefs?
Turns out, that line can have a great deal of flexibility, partly due to the ways in which young children inherit team loyalty from grandparents, parents and siblings. Sports is a kind of straight-forward common ground that can bring together family members who may have little else in common.
The NFL counts on lifelong fans passing the torch to ensure revenues for generations to come. In a 2014 New York Times Op-Ed piece, Economist Seth Stephens-Davidowitz crunched the numbers to show that if a team wins a championship early in a fan's life (ideally around age 8), those little boys, and girls, are exceedingly more likely to cheer for that team throughout adulthood. By locking down a lifetime's worth of fan revenue with one championship year, that franchise will continue to earn dividends for years to come, even if the team no longer remains dominant.
Alexis Kern is a diehard New York Giants fan who attends every single home game with extended family and friends. Her season tickets have been in her family for almost 55 years, passed from grandfather to father to brother to sister.  But she believes even her blood-deep fandom has its limits. Kern says her love of the team wouldn't disrupt her anger if a scandal like Ray Rice's domestic violence case hit the Giants. "Oh hell no.  It's about what's right and what's wrong, I don't care what team you're on, even that applies to the Giants."
For some fans, shedding the family team could mean disrupting those familial relationships themselves.  Bryce Norbitz's mother is a Jets fan, her father grew up with the Giants.  She says she chose her loyalty to her mom's team early on, when she became aware of a deep-rooted connection it could provide.  Norbitz says she doesn't see either one of them easily shedding what has been a lifelong mutual loyalty.  "I think my mom would prefer to chalk it up to 'what a shame that individual player is a bad person' and not want to confront that it has something to do with a hobby that she has been invested in," she said.
Luther says her faith in Florida State football was indeed shaken in light of an ongoing sexual assault investigation into star quarterback Jameis Winston. "Beginning of the season, I was like, I am not going to watch Florida State football. And then I totally did. I just DID, I always do," she admits.  She did stop purchasing Florida State merchandise and has felt relatively less enchanted with the team, but has trouble imagining a world in which fans would begin turning away in droves. "I don't even know what it would take for me as an individual so what would it take for large-scale numbers? I wish that I could say, but I don't know how bad it would have to get," she said.
So what kind of mental acrobatics does a forward-thinking, moderately feminist female fan have to perform every weekend to actually enjoy a little football? "I really feel like, as women, when we go out into the world and navigate any kind of entertainment or pop culture, it's basically a series of negotiations with ourselves about how much sexism we are going to consume," Luther says.
Norbitz agrees that the process feels self-compromising.  "I would probably try to find some sort of combination that felt more right about being able to watch the games but not monetarily supporting the franchise," she said.  "Which is sort of the equivalent of being a vegetarian that eats fish, but that's sort of where I'm at right now."